If you are in the market for a hospital bed, you may be feeling overwhelmed by all of the choices available to you. With so many different types, brands, and features to choose from, how can you be sure that you are making the right decision? We will discuss the different types of hospital beds available. We will also provide tips on how to choose the best hospital bed for your needs. Let's get started!
Types of Hospital Beds
There are two main types of hospital beds: manual and electric. Manual hospital beds are operated by a hand crank, while electric hospital beds are powered by an electric motor. Both types of beds have their own advantages and disadvantages.
Manual
Manual hospital beds are typically more affordable than electric hospital beds. They also tend to be more lightweight and easy to move around. However, they can be difficult to operate for some people, and they may not offer as many features as electric options.
Electric
Electric hospital beds, on the other hand, are more expensive than manual hospital beds. But they offer a number of features that manual hospital beds don't, such as adjustable bed height and position, built-in massage function, and remote control operation. Electric hospital beds can be easier to operate for some people. However, they may be too heavy for some people to move around by themselves.
Things to Keep In Mind
Now that you know a little bit more about the different types of hospital beds available, let's discuss how to choose the best one for your needs. Here are a few things to keep in mind:
Budget
Your budget is likely to be one of the most important factors in your decision. Electric hospital beds are more expensive than manual hospital beds, so if you're on a tight budget, a manual bed may be the best option for you.
Who Will Be Using the Bed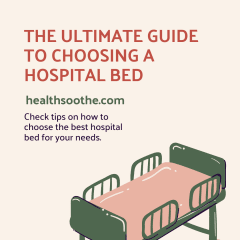 Another important consideration is who will be using the bed and the needs of the person who will be using it. Will they be able to operate a manual bed if needed? Do they need the extra features that an electric bed offers? If you or the person using the bed have limited mobility, you should also keep this in mind when making your decision.
If you need a hospital bed for short-term use, such as after surgery or an injury, a manual hospital bed may be sufficient. However, if you need long-term care, an electric hospital bed may be more ideal because it offers more features and may be easier to operate.
Size and Weight
You'll also want to consider the size and weight of the person who will be using the bed. If they are larger or heavier, you may want to choose an electric hospital bed because it can support more weight more easily.
The Caregiver's Needs
If there will be caregivers helping with daily needs, it is important to consider their needs as well. For example, if the caregiver is not strong enough to operate a manual hospital bed, an electric hospital bed would be the better choice.
The Size of the Room
Make sure to measure the room before you buy a hospital bed. You want to be sure that the bed will fit comfortably and leave enough space for other furniture or medical equipment. Electric hospital beds, for example, can be large and bulky. Manual hospital beds, on the other hand, are typically more compact, so a manual bed might be necessary if you have limited space.
Frequently Asked Questions
How do I know if I need a hospital bed?
If your doctor has recommended that you get a hospital bed, then you will likely need one. Some examples include if you are recovering from surgery, have an injury, or have a chronic illness.
Where can I buy a hospital bed?
You can purchase a hospital bed from medical supply stores, online retailers, or through your health insurance company. Some hospitals and nursing homes may also offer rental options.
How much does a hospital bed cost?
Hospital beds can range in price from a few hundred pounds to several thousand pounds. The price will depend on the type of hospital bed, the features it offers, and the brand. Some insurance companies may cover the cost of a hospital bed, but you will need to check with your specific plan.
Do I need to get a special mattress for my hospital bed?
No, you don't necessarily need to get a special mattress for your hospital bed. There are many different types of mattresses available for hospital beds so be sure to choose one that is comfortable and supportive. However, if you have any special medical needs, such as a pressure sore, you may need a specialised mattress.
How often do I need to replace my hospital bed?
The frequency of replacement will depend on how often the bed is used and how well it is maintained. Most hospital beds have a lifespan of about five to seven years. However, if the bed is not properly cared for, it may need to be replaced sooner.
How do I care for my hospital bed?
Proper care and maintenance of your hospital bed is essential to prolonging its lifespan. Make sure to read the owner's manual for specific instructions on how to care for your bed. In general, you will need to regularly check the bolts and screws to make sure they are tight. You should also wipe down the bed frame and mattress with a mild soap and water solution.
Making the Decision
Choosing the right hospital bed is an important decision. Take your time to consider all of your options and make sure you are choosing the best bed for your needs. With a little bit of research, you can find the perfect hospital bed for you or your loved one.
We hope this guide has been helpful in your search for the perfect hospital bed!
We are sorry that this post was not useful for you!
Let us improve this post!
Tell us how we can improve this post?