Last Updated on 1 year by Isreal Olabanji DST RN
Tenaculum forceps are gynecological instruments used to grab a hold of tissues or cervix during a surgical procedure. It is type of locking forceps that stays in the spot where it was locked in.
Tenaculum forceps allow steady holding of tissues while the surgical procedure may be performed. It also guarantees that there is no tissue in the surgical site and helps control the tissues as and when necessary. There are a number of tenaculum forceps available, each of which can serve a different purpose, and thus be made differently.
The tenaculum forceps have thick, thin handles that are placed on hooks. The hooks are attached to the tissue that needs to be examined, and the handles are locked in place once the hooks are securely attached to the tissue that needs to be examined and the position required has also been obtained.
Uses of tenaculum forceps:
Tenaculum forceps are very widely used to protect the cervix and uterus of a woman while doing a medical procedure. Such forceps often fall under the gynecological instruments category and allow the gynecologist to see the cervix easily.
 It is used to seiz and hold arteries very well during various procedures.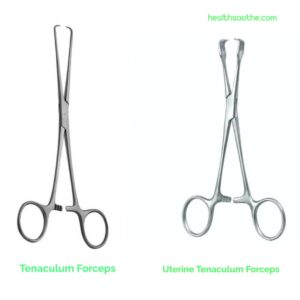 Tenaculum forceps that are to be used for gynecological purposes can be made of plastic or steel. Steel forceps can be sterilized and can therefore be re-used where those forceps made from plastic are meant only to be used once on a single patient.These are disposed of when the patient's test / treatment is over. All instruments are made from the finest plastic and steel so that they are both safe for the patient and convenient for the surgeon to operate with when used.
Anesthesia is generally provided to The patient by the surgeon conducting a procedure that uses tenaculum forceps. There are times when the patient may be left to remain awake but a local anesthesia is still provided so that the gynecological instrument insertion and removal is not felt. Medication is also provided to the patient along with anesthesia, so that he/she can stay relaxed throughout the procedure.
It is quite common for patients to feel the instruments that surgeons and doctors use on them, but using the right type of forceps will ensure smooth and comfortable completion of the entire procedure.
If the wrong instruments are used, tissue can be severely damaged which will further cause infection and increase the time during which healing can occur. Based on the operation being done, only the right kind of equipment should be used and only reputable suppliers should be approached when buying medical supplies.
Where can I get tenaculum forceps?
Blacksmith surgical has a large database of customers that demonstrates how popular their gynecological instruments and other instruments are. Such instruments are made from high quality materials and are designed and distributed to the consumer in the most professional and safe manner possible.
Related Forceps
We are sorry that this post was not useful for you!
Let us improve this post!
Tell us how we can improve this post?