With the COVID-19 pandemic raging on and experts predicting the vaccine will not be available to the general public for several months, taking steps to mitigate the spread of the virus is still a primary concern. Schools have reopened in most areas in the United States (or plan to do so soon) with procedures in place to keep everyone safe and prevent community spread.
While administrations across the country have formulated plans for keeping students and faculty healthy during these challenging times, it remains largely up to teachers to protect the students in their care. Teachers play a vital role in ensuring education continues, and it is up to them to take steps to maintain clean classrooms and prevent the spread of COVID-19. From using antimicrobial laundry detergent to helping students remember to practice social distancing, there are several ways teachers and faculty can keep their students safe during COVID. Read on to learn more.
Wear Scrubs to School
Though they are most commonly worn by healthcare professionals, scrubs are a great wardrobe option for educators, too. When you change into scrubs upon arriving at school and change out of them before heading home, you can avoid bringing viruses and other particles with you to school or home with you from school. With today's stylish scrub jackets, tops and pants, it is easy to put together professional-looking outfits that look great and will help slow the spread of COVID-19.
Scrubs often have antimicrobial properties, and they are designed to withstand frequent washes in hot water. They are easy to sanitize and affordable enough to replace if you damage a set while cleaning your classroom with bleach. If you are a teacher who wonders how to help students during COVID lockdown, wearing scrubs to school is one of the simplest things you can do to help keep them safe.
Develop a Simple, Efficient Cleaning Routine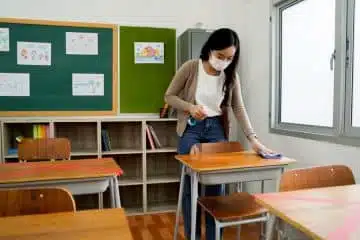 Maintaining a clean classroom is vital during this challenging time. Daily disinfecting of frequently touched surfaces, like doorknobs, desks, countertops, toys, phones and computer keyboards and mice, is an important step in slowing the spread of the coronavirus. Keeping up with all the cleaning can be tricky, though. Coming up with a cleaning routine that is quick but safe is a must for all teachers and faculty members.
Get in the habit of wiping down all surfaces at the beginning and end of the day. Clean any objects or surfaces visibly dirty immediately. Always wear gloves when cleaning and disinfecting to protect yourself.
Read the labels on your cleaning products before you get started, and make sure you understand the instructions regarding safe usage. Never mix cleaning products unless the product packaging states it is safe to do so. Combining certain cleaning products and disinfectants is extremely dangerous.
Come up with creative ways to encourage your students not to touch high-touch areas unless necessary. Keep your classroom door open during the day to minimize how frequently the doorknob is touched, and encourage your students to keep their hands in their pockets while walking in the halls. Sit down with your students and come up with some safety rules together, and make a sign to display in an easily visible area of your classroom. Kids are more likely to stick to the rules if they feel like they played a role in creating them.
Encourage Good Hygiene
If you work with older students, you may not need to go to great lengths to remind them to cover their mouths when they sneeze or wash their hands after using the restroom. With younger students, however, you may need to put in a bit more effort.
One of the best ways to encourage your students to practice good hygiene is by practicing it yourself. Wash your hands and use sanitizer frequently. Wear your mask properly, and practice good social distancing as often as possible. Setting a good example is one of the best ways to encourage the kids in your classroom to take things like hand washing and sanitization seriously.
You can also engage your younger students by creating a song about hand hygiene and singing it in class, having them make posters about hygiene to display in your classroom or even having a points system in your classroom that rewards your students for good hygiene practices, like washing hands and using sanitizer.
When working with younger students, it is important to make practicing good hygiene fun, not frightening. You don't want to scare your students into washing their hands because they might get sick if they don't. Instead, you want to convince them hand washing and good hygiene are fun ways to be safe and responsible kids.
Follow Masking Recommendations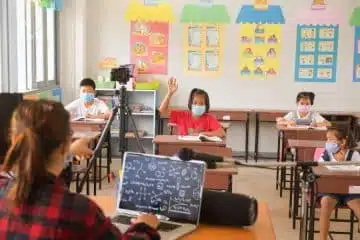 If you are in an area where wearing masks in school is required or recommended, make sure your students know how to wear and dispose of them properly. Make sure they keep their masks on while in your classroom, when going to the restroom, cafeteria or another classroom, etc. While no one likes masks, it's important to ensure they are used properly to help keep everyone safe. Take the time to explain your school's policies regarding wearing and disposing of masks, and make yourself available to answer any questions they may have.
Over the last several months, it has become clear just how large a role teachers play in the lives of students. Whether you teach young children, older teens or even college-age students, it is up to you to take steps to ensure their safety while they are in your classroom. Many of the challenges encountered in 2020 will likely persist well into 2021 (and potentially beyond), so it is vital to take steps to keep your students safe during COVID and ensure learning continues – even during a global pandemic.