If you've been spending a lot of time taking care of a family member that is disabled or senior, then you know just how difficult things can get. You have to spend every free minute making sure that the person you are caring for has all of his or her needs met and you have to juggle your own responsibilities at the same time. Sometimes, people who become permanent caregivers of those family members cannot even find the time to work, which can deal quite a blow to their financial situation.
We cannot deny the fact that caring for people with disabilities can be quite expensive. And, yet, if you want to be absolutely sure that they'll get everything they need, your professionals life will suffer and you might find yourself lacking the money that you need in order to provide these people with the best possible care. Wouldn't it be great if there was a way for you to actually get paid for the work that you are doing, i.e. the care that you are giving to your disabled family member?
Well, that would certainly be amazing and I know that such an opportunity would solve a lot of your problems. You shouldn't think of this as of doing something wrong and you shouldn't judge yourself for wanting to get paid for taking care of your family members. The truth is that you would do it for free as well, especially if we are talking about a person that you really, really love. Yet, we cannot deny the importance of money in situations like these and we cannot forget that the caregivers need to have some kind of financial support as well.
So, once again, it would be great if you could actually get paid to take care of your family member with a disability. If you've started thinking more carefully about this, then you've probably realized that such an opportunity might actually exist and that you simply need to learn about it and use it to your advantage. Well, it is time to find out whether you hunch is right and whether such an opportunity really exists and is waiting for you to use it. This useful source might give you a better idea about it all.
Can You Get Paid For This?
Let me cut right to the chase and answer your question. Yes, you can get paid for doing this, i.e. for taking care of your disabled family members. Well, this is an option in Georgia at least, and you would have to check for rules and regulations in other states if this is not where you are located. The bottom line is, though, that this is a very real opportunity and that you should definitely use it. After all, you do deserve to get compensated for all the work that you are doing, and I am sure you understand that.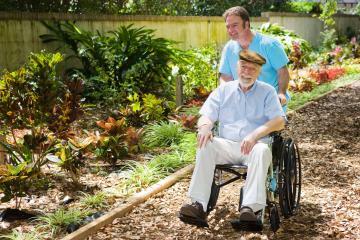 How?
Now, let me tell you a bit more about the opportunity that I am mentioning here, since you probably have a lot of questions now that you know that getting paid to do this is a possibility. I'll answer those important questions for you, such as the question of eligibility, but you first need to get properly acquainted with the actual program that allows you to get compensated in the first place. There is a chance that you have heard of the program in the past, so now it is time for you to figure out precisely what it is and how you can use it to your advantage.
Basically, I am talking about the Structured Family Caregiving (SFC) program that was designed to offer financial support to Georgia families who are taking care of a senior or a disabled person. You can get a lot of amazing support services that you need through this program, but we cannot deny the fact that the financial aspect is practically the most important one. So, now that you know which particular program I am talking about, it is time to start answering those questions that I've hinted at above, starting with the question of your eligibility for this program.
Are You Eligible?
It goes without saying that there are certain requirements that need to be met if you want to get paid with SFC program in Georgia. After all, if no requirements were set, some people would definitely try to use these kinds of financial support opportunities even if they didn't really need it, which further means that they would basically be depriving someone else of the opportunity – someone who is really in need of the mentioned support. That is why these requirements exist and it is now time for you to have a closer look at them, with the aim of checking whether you are actually eligible for the help or not.
First things first, you need to be living with the disabled person in question, because you cannot exactly provide them with the best possible care if you're living somewhere else. This is a perfectly logical requirement and I am guessing you understand why it was set. Additionally, you are also eligible if you are related to the disabled or senior person. And, of course, you can get the financial support if the person you're taking care of is Medicaid-eligible. If you meet those criteria and if you're not employed somewhere else already, you are eligible for receiving the financial support for taking care of your disabled or senior family member.
How To Apply?
If you find that you meet the necessary criteria and that you could really use the financial support that the SFC program offers to families in Georgia, then you'll want to learn how to apply for the program. Well, this specific process won't be that difficult. You can either find information on how to apply online or contact representatives that will take you through the process. Make sure to have all the documentation ready, submit it and then wait for approval.