Syphilis is a highly contagious disease spread primarily by sexual activity. Occasionally, the disease can be passed to another person through prolonged kissing or close bodily contact. Although this disease is spread from sores, the vast majority of those sores go unrecognized. The infected person is often unaware of the disease and unknowingly passes it on to his or her partner.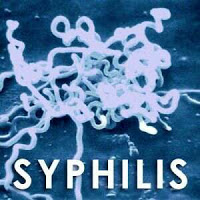 Source: ask.Naija.ng


Pregnant women with the disease can spread it to their baby. This disease, called congenital syphilis, can cause abnormalities or even death to the child.
Syphilis cannot be spread by toilet seats, door knobs, swimming pools, hot tubs, bath tubs, shared clothing, or eating utensils.

This is one of the highly communicable diseases that can be passed from person to person. The name "syphilis" is another Italian word used to name diseases. Some believe that syphilis was carried back by Columbus men from the New World, while others find proof that Europe had its outbreaks way before the Columbus tour to Americas.
Outbreaks of Syphilis

Africa got infected with syphilis around 200 years ago. At the beginning of the last century in Uganda syphilis has become massive and increased the infant mortality rate to 60 percent. It also got massive in Nigeria. The physicians believe that over 90 percent of all the babies born in Nigeria have inborn syphilis! So, the outbreak is still there.

Presently over 12 million people get infected with syphilis annually and over 150 thousand people die of it yearly.
What Causes Syphilis?

Syphilis is caused by the bacteria Treponema pallidum.

The cause of syphilis is a bacterium called Treponema pallidum. The most common route of transmission is through contact with an infected person's sore during sexual activity. The bacteria enter your body through minor cuts or abrasions in your skin or mucous membranes. Syphilis is contagious during its primary and secondary stages, and sometimes in the early latent period.

Less commonly, syphilis may spread through direct unprotected close contact with an active lesion (such as during kissing) or through an infected mother to her baby during pregnancy or childbirth (congenital syphilis).

Syphilis can't be spread by using the same toilet, bathtub, clothing or eating utensils, or from doorknobs, swimming pools or hot tubs.

Once cured, syphilis doesn't recur on its own. However, you can become reinfected if you have contact with someone's syphilis sore.
How Does Syphilis Affect a Pregnant Woman and Her Baby?

Depending on how long a pregnant woman has been infected with syphilis, she has a good chance of having a stillbirth (birth of an infant who has died prior to delivery) or of giving birth to a baby who dies shortly after birth.

If not treated immediately, an infected baby may be born without symptoms but could develop them within a few weeks. These signs and symptoms can be very serious. Untreated babies may become developmentally delayed, have seizures, or die.
Transmission and prevention of Syphilis

Mostly syphilis is transmitted through sex. It can also be passed on from mother to her children while in her womb. The main prevention measure is sex education and sexual purity. After all marital loyalty pays back the most. Having just one sexual partner in life is the best prevention you can have.

There is no vaccine for syphilis. To help prevent the spread of syphilis, follow these suggestions:
Abstain or be monogamous. The only certain way to avoid syphilis is to forgo having sex. The next-best option is to have mutually monogamous sex with one partner who is uninfected.

Use a latex condom. Condoms can reduce your risk of contracting syphilis, but only if the condom covers the syphilis sores.

Avoid recreational drugs. Excessive use of alcohol or other drugs can cloud your judgment and lead to unsafe sexual practices.
Diagnosis of Syphilis

Syphilis can be diagnosed by testing samples of:

Blood.

Blood tests can confirm the presence of antibodies that the body produces to fight infection. The antibodies to the bacteria that cause syphilis remain in your body for years so the test can be used to determine a current or past infection.
Cerebral spinal fluid. 

If it's suspected that you have nervous system complications of syphilis, your doctor may also suggest collecting a sample of cerebrospinal fluid through a procedure called a lumbar puncture (spinal tap).
Through the Centers for Disease Control and Prevention, your local health department offers partner services, which will help you notify your sexual partners that they may be infected. That way, your partners can be tested and treated and the spread of syphilis can be reduced.
Treatment of Syphilis

When diagnosed and treated in its early stages, syphilis is easy to cure. The preferred treatment at all stages is penicillin, an antibiotic medication that can kill the organism that causes syphilis. If you're allergic to penicillin, your doctor will suggest another antibiotic.
A single injection of penicillin can stop the disease from progressing if you've been infected for less than a year. If you've had syphilis for longer than a year, you may need additional doses. 
For those allergic to penicillin, tetracycline, doxycycline or another antibiotic can be given instead. If you are in a later stage of disease, more doses will be needed.
People who are being treated for syphilis must abstain from sexual contact until the infection is completely gone. Sexual partners of people with syphilis should be tested and, if necessary, treated.

Penicillin is the only recommended treatment for pregnant women with syphilis. Women who are allergic to penicillin can undergo a desensitization process that may allow them to take penicillin. Even if you're treated for syphilis during your pregnancy, your newborn child should also receive antibiotic treatment.

The first day you receive the treatment you may experience what's known as the Jarisch-Herxheimer reaction. Signs and symptoms include fever, chills, nausea, achy pain and headache. This reaction usually doesn't last more than one day.
RELATED READING
Sources
Mayo clinic - disease conditions syphilis, treatment and diagnosis. https://www.mayoclinic.org/diseases-conditions/syphilis/diagnosis-treatment/drc-20351762

WebMD medical reference - sexual conditions syphilis. https://www.webmd.com/sexual-conditions/syphilis