Let's get one thing clear straight away: Mini skirts will NEVER be out of style.
'Why?' You ask.
Well, because women fought so hard for us to be able to wear them - that's why. When mini skirts first took over the fashion scene in the 50s and 60s there were thousands of voices calling for women to stop wearing them.
Hysteria spread about the end of traditional values and modesty (as though somehow seeing more of a woman's legs would bring about the end of society as we knew it).
Thankfully, women didn't listen to these wild claims, and continued to choose the length of their own skirts. Were mini skirts an act of rebellion? Absolutely! And that's one of the reasons we still love them today!
What Is A Mini Skirt?
A mini skirt has a hemline (the bottom of the skirt for anyone who doesn't know what a hemline is) that is generally about halfway between the knee and the top of your leg.
Strictly speaking, in order to be considered a mini skirt it can't be longer than 10cm below the buttocks, but it can certainly be less than 10cm too.
Mini skirts come in a range of sizes and styles, with some being almost eye-wateringly mini, and others right on that 10cm mark. If women want to show off a little less skin, then they can opt for one that's around 10cm below their buttocks, but many women look just as good in a mini skirt that only just skims past their buttocks at around 2 or 3 cm. It's all about wearing what you feel your best in!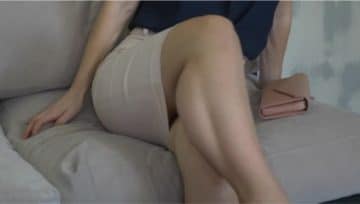 Are Mini Skirts Big In 2021?
So, the big question - are mini skirts still in right now? Well, yes, of course they are! Right now the trend seems to be shifting towards pleated mini skirts.
The pleated mini skirt gives a little more volume, and a lot of women feel much more comfortable in this style of mini skirt because it almost creates an illusion of it being longer than it really is, whilst still showing off the skin they want to show.
Mini skirts are huge right now, and there are many ways to wear them. Dress them down for a casual, sexy outfit, or team them with an elegant top for an evening meal at a restaurant - the possibilities are endless. Mini skirts are popular at pubs and clubs, but they're just as amazing as part of an outfit for a stroll in the park. If you think about what to team them with, then you can take a mini skirt anywhere!
How Can You Join In On The Trend?
If you want to look right on trend in 2021, then here's the perfect daytime outfit:
- A long-sleeved white button-up shirt (tucked in)
- Black boots (knee high or as far as you want to go)
- A denim jacket (optional, but recommended)
This outfit works well because it's teaming the popular pleated mini skirt with a casual shirt and denim jacket, which are ALL on trend right now.
Take-Home Message
Before you leave us to dig out that mini skirt you bought but never wore, we just want to give you something to think about.
Mini skirts work for everybody.
Seriously, we've seen all manner of body sizes and shapes working mini skirts like you wouldn't believe, so if it's a style you want to try, then we say try it!
Mini skirts are in right now in 2021, and nobody should miss out on it if they want to join in on the trend. So go ladies, find those mini skirts, get those legs out, and lets continue the rebellion of our sisters before us!