While unfortunate, serious illnesses at advanced ages are a common occurrence. During such times, one thing rises above all else—ensuring the patient's comfort. Here, we find the profound importance of palliative care.
Palliative care is a centuries-old practice of easing pain and softening the impact of severe symptoms. But its role extends beyond mere physical relief. It's also about nurturing the patient's overall well-being, adding a touch of warmth to medical care.
In this article, you will learn how ideal palliative care services can improve a patient's well-being, where they are provided, and the best practices.
How Palliative Care Enhances A Patient's Quality of Life
Palliative care services may vary, but primarily, they are based on the needs and circumstances of the patient. Some of the services a palliative care team provides generally include these:
1. Through Pain Management
Palliative care's most significant contribution is pain and symptom management. It employs various strategies, including medication and physiotherapy, all tailored to individual needs.
For example, for a patient with severe cancer pain, a palliative care provider can work with the patient's oncologist to help manage their pain more effectively. Or if someone with chronic obstructive pulmonary disease could benefit from breathing exercises and physiotherapy, a palliative care team can collaborate with the patient's pulmonologist to optimize their medical management.
2. Through Symptom Management
Besides pain, palliative care helps manage other distressing symptoms, such as shortness of breath, fatigue, loss of appetite, or insomnia.
For example, suppose a patient with heart failure experiences persistent coughing and difficulty breathing. The palliative care team could help ease these symptoms to significantly improve the patient's comfort and ability to carry out daily activities.
3. Through Spiritual Care
Sometimes, patients need more than physical and emotional support, especially when dealing with life-threatening conditions. Palliative care addresses this by also providing spiritual care.
This aspect involves helping patients and families find peace with the illness. It also helps to offer comfort during hard times and even guide them through difficult decisions. This comprehensive approach ensures that all facets of a patient's well-being are catered to.
Living with a severe illness can be an emotionally draining journey not just for patients but also for their loved ones. This is where palliative care steps in with its integral component of emotional and psychosocial support.
The care teams provide counseling and support mechanisms to help manage anxiety, depression, and stress associated with the illness. This layer of support contributes significantly to enhancing the psychological well-being of patients and, by extension, their overall quality of life.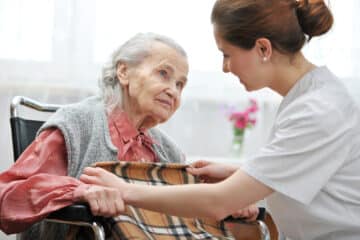 Where Palliative Care Services Are Provided
Palliative care services exist in a variety of settings. Here are some common places where palliative care services are offered:
Hospitals: Many hospitals have specialized palliative care teams who work in concert with the patient's other doctors to provide an extra layer of support.
At home: Home-based palliative care is becoming increasingly common. This involves health professionals—such as doctors, nurses, and social workers—visiting patients at their homes to provide care.
Outpatient clinics: Some patients can visit a clinic for consultations and treatments without hospital admission.
Long-term care facilities or nursing homes: These help to manage the symptoms of serious illness alongside the care they are already receiving.
Hospice care: Patients can benefit from hospice care in the last six months of life when curative treatments are no longer effective or desired. This can take place in a patient's home, a hospice facility, a hospital, or a long-term care facility.
Each of these settings offers a unique approach to delivering palliative care services, and the best choice depends on the patient's condition, preferences, and available resources.
Best Practices When Choosing Palliative Care
Here are some factors to consider when choosing palliative care:
Ensure the facility is fully licensed and accredited by relevant health authorities. This indicates that the facility meets certain standards of care and patient safety.
Look for facilities that specialize in palliative care. They are more likely to have the comprehensive resources and experienced staff needed to handle complex health issues.
Check the qualifications and training of the staff. The team should include board-certified palliative care physicians, experienced palliative care nurses, and trained social workers.
Consider the patient-to-staff ratio. A lower ratio often means more personalized attention and better quality of care.
The facility should offer comprehensive physical, psychological, and spiritual support.
Consider the facility's reputation. Online reviews, word-of-mouth referrals, or recommendations from healthcare professionals can provide insight into the quality of care provided.
Remember, the best palliative care facility can meet the patient's needs and preferences while providing comfort, respect, and quality medical care. It's always a good idea to visit a facility, if possible, and ask questions before making a decision.
Final Thoughts
Palliative care plays an essential role in managing the pain and symptoms associated with serious illnesses, particularly as one advances in age. Choosing the right palliative care setting can make a significant difference in a patient's comfort and well-being. It's about finding a place where the patient feels most at ease and where their specific needs can be met.
Whether you or a loved one is in need of such services, we hope this guide has equipped you with valuable insights and tips to make informed decisions. Always remember, the best choice is the one that aligns with the patient's needs, preferences, and comfort.