If someone wants to achieve a Level 5 Diploma in Leadership and Management for residential Childcare, there are some key skills that they need to acquire. Residential Childcare skills are the combination of capabilities that allows the workers to create a safe & engaging environment for physically or mentally disabled children.
People working in residential childcare or daycare centers must learn soft skills, effective communication skills, and some technical abilities, including first-aid knowledge. These skills allow the carers to inspire their students to learn useful life skills excitingly and securely.
Key Skills Necessary to Achieve Level 5 Diploma in Residential Childcare
Here are a few key skills that are necessary for the carers to acquire if they want to clear them level 5 childcare diploma in leadership and management:
Strong and Effective Communication Skills
Childcare workers need strong communication skills, including verbal and written communication skills. They need to be able to organize and plan activities and lessons for children, as well as communicate with parents and other staff members. They must also be able to make quick decisions in emergencies. While these tasks may seem routine, they require a certain amount of creativity.
Ability to Make Children Feel Secure and Confident
To acquire a level 5 childcare diploma, carers must learn to make children feel confident and secure in the environment where they learn. They will look to adults for direction and advice, and you must have a genuine enthusiasm for working with them. Children will notice insincerity from a mile away and need someone genuine and able to engage with them. They also need caregivers who are creative and imaginative.
Ability to Inspire Students to Undergo Continuing Education
Child care workers must also undergo continuing education. The job requires a thorough background check and a minimum amount of training. For example, some states require childcare workers to be certified in CPR and First Aid Certification. Others require childcare workers to have a nationally recognized credential. The Child Development Associate credential, awarded by the Council for Professional Recognition, is required for childcare workers in many states. This credential is earned through coursework, experience, and observation and must be renewed every three years.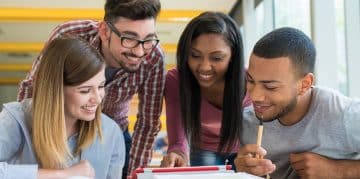 Right Combination of Experience and Training
The child care industry is extremely complex, with much to learn and practice. There are many different positions, and some require more than one skill set. However, the right combination of experience and training can make a difference in the long run. With the right knowledge, you can build a career in residential childcare and provide care for children in your community.
High School Education
High school education is generally required to achieve a level 5 childcare diploma, and many employers require postsecondary education. If you are interested in a position in a licensed childcare center, you may also need to complete a background check or take child development and psychology classes. You can also pursue a certificate or associate degree in early childhood education, which can lead to a successful career. In addition, further training in areas such as nutrition and safety can be beneficial.
What is Covered in Level 5 Diploma in Residential Childcare Program?
The qualification of a level 5 childcare diploma provides the necessary knowledge and skills to carers. It will allow the carers to lead others and manage practice in residential childcare arrangements for young people and children. Level 5 childcare diploma will allow the carers to gain the necessary knowledge and skills to lead a residential childcare arrangement, including managing and leading a group living and team, leading practice to support young people and children, and implementing procedures and policies. Units of the Level 5 Diploma in Residential Childcare Program primarily include:
Leading practice to attain positive outcomes for young people and children in the residential childcare program.
Risk Management in residential childcare programs regarding physical, mental, and emotional state.
Managing and leading a childcare management team in a residential childcare arrangement.
Understanding support for young people and children is liable to higher risks and disadvantages in society.
Managing and leading childcare management team living in residential childcare.
Learners must achieve at least 65 credits. Fifty-seven credits are needed from Mandatory Group A, and a minimum of 8 credits are needed from Optional Group B.
How is a Level 5 Diploma in Residential Childcare Important for Your Career Growth?
If you like the childcare industry and cannot think of a better work environment than toddlers' classes, you might consider starting a career in this field. As sweet as functioning in the educational field, it is extremely demanding and needs you to manifest to have the right skill set to do it in the right way. Teaching preschoolers and playing with toddlers is a single benefit of a level 5 childcare diploma.
You'll Learn Incredible Skills. There is much more to childcare than searching for educational ways to play with toddlers. A part of the level 5 childcare program includes the element of the legislation, child development, and pedagogy.
You'll Get First-Hand Experience. Working with toddlers can be a hair-raising experience, especially if you step foot in a room without doing it.
There is a Room for Improvement. Whatever your goals are, and at whatever stage you are in your career, there are multiple possibilities accessible to you.
You Will Get It Funded. If your financial problems stop you from pursuing a level 5 childcare program, you must know that you can get a scholarship for your diploma.
You'll Work with Children. If you like working in the educational field and taking care of toddlers, pursuing a level 5 childcare program will help you with this.
Wrapping Up
Residential Childcare workers have a wide variety of responsibilities. From helping children with everyday tasks to helping them with schoolwork, residential childcare workers help children develop the skills they will need to be independent. These duties do not require special qualifications or experience but rather a good personality and a love of children. The Scottish government is working on developing a professional qualification for childcare workers in Scotland.