If your child plays football, then you almost certainly know that they need a helmet, protective pads, cleats and a uniform. But what about the other items they might need? Today, we're highlighting small yet important equipment that every football player should have in order to practice safely and successfully, from sports mouthguards to eye shields to first aid kits.
Gloves
Linemen and receivers like to wear gloves to protect the skin on their hands from cuts and scrapes. The gloves also absorb sweat in the hot months and protect the hands from cold during the winter. Quarterbacks typically prefer to throw bare-handed, which gives them more control over the ball, but they may also need to wear gloves in very cold weather to prevent their hands from going numb.
 2. Arm sleeves
Similar to gloves, arm sleeves are usually worn to protect the skin from "rug burns," rashes and other wear and tear that often occurs in a high contact sport such as football. Arm sleeves also help players stay warm as the temperatures start to drop without sacrificing moveability. Some arm sleeves also offer compression, which can help to prevent swelling and increase muscle mobility during games.
 3. Compression shorts or pants
Many athletes in a variety of sports like to wear compression shorts or pants instead of regular underwear. These specially designed shorts hold everything in place, don't soak up sweat, protect the skin from chafing and offer compression benefits to lower body muscles. Some football players prefer to wear a football girdle, which is a specific kind of compression short with integrated padding along the hips and upper thighs. This padding helps keep the hip and thigh pads from rubbing directly on the skin.
 4. Mouthguards
Mouthguards help prevent mouth and jaw injuries, such as biting your tongue, and are a must for contact sports like football. Cool mouthguards are not that expensive, but their small size makes them easy to lose, so you might want to place a backup in your child's duffel bag to ensure that they always have one with them in case of emergency. After all, a mouthguard is not exactly the kind of equipment that you want to borrow from someone else!
 5. Neck rolls
Neck rolls are a type of protective equipment that help stabilize the neck and keep it in place. While not as popular as they were in the heyday of the 1980s and 1990s, they are still used today, especially by lineman who quite literally stick their necks out. Neck rolls are offered in various levels of padding and protection so you can choose the perfect one.
 6. Football socks
No uniform would be complete without football socks. Football socks protect the skin from chafing and provide cushioning for the sole of the foot. Many teams have regulations about what colors socks are allowed for games (it's usually black or white, to match the uniforms), so make sure to check the regulations before buying your socks.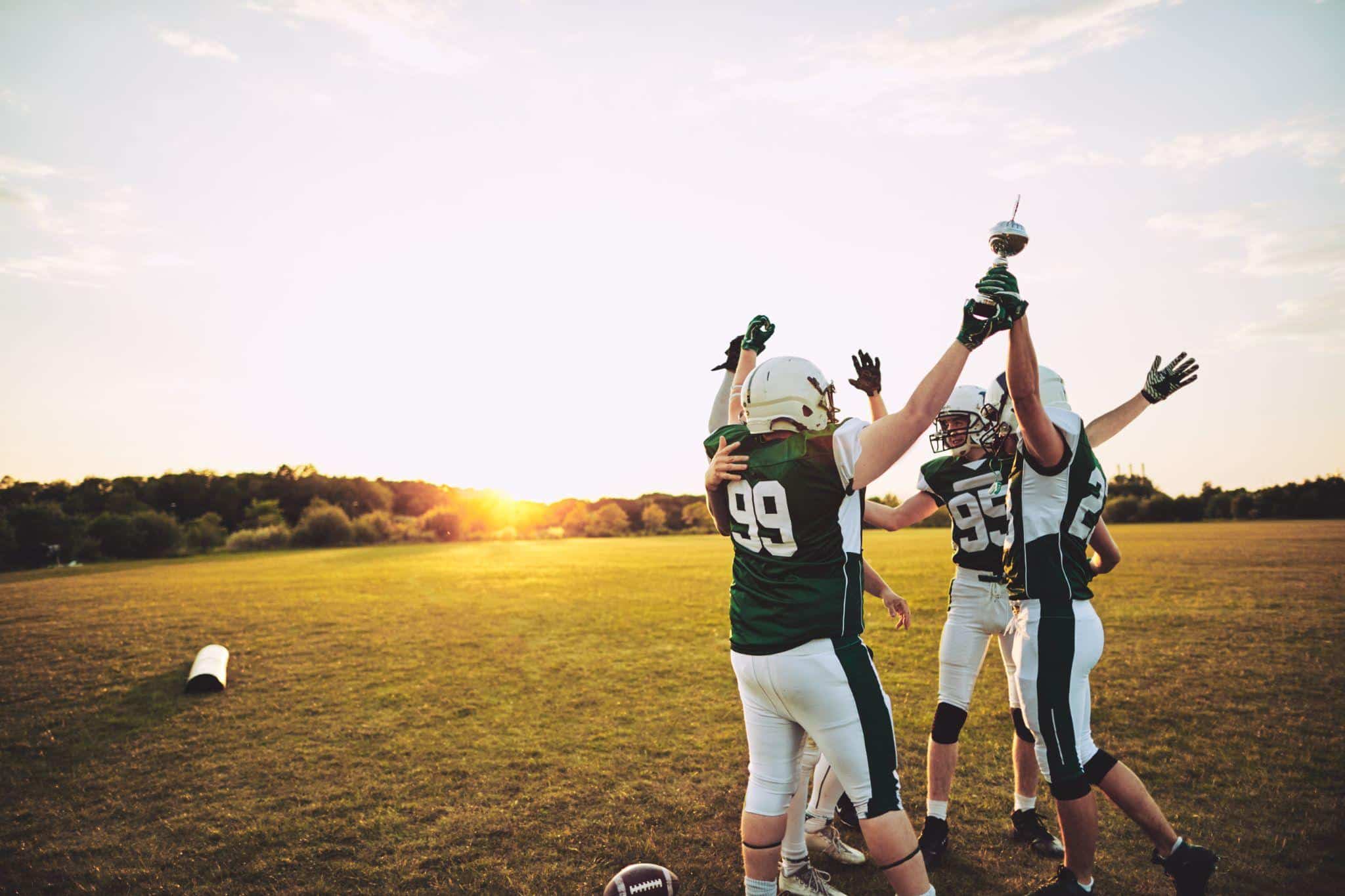 Source: Flamingo Images/ shutterstock.com
7. Skull caps
Skull caps and skull wraps are designed to soak up sweat inside your helmet, improving visibility and keeping you dry and cool. They also help keep hair in place and stop it from falling in your eyes. Some skull caps also include foam or gel pads to provide added cushioning inside the helmet.
 8. Visor or eye shield
Visors are transparent plastic shields that attach to the front of the helmet and offer protection from debris, dirt and other things that can potentially reduce visibility or harm your eye area. Visors can be clear or tinted; the tinted ones also help manage glare from the sun, similar to sunglasses.
 9. Slide sandals
If your child will be showering in communal showers after practices or games, then they absolutely need slide sandals that can get wet in order to protect themselves from athlete's foot. Many football players also enjoy wearing slide sandals to and from practice because it is very easy to take them on and off. Make sure to choose the right size for your child: If they are too small, they will chafe, but if they are too large, they will pose a tripping hazard.
 10. Towels
Football requires a lot of exertion, and most football players work up a heavy sweat even when playing in cold weather. Soft towels are a must for blotting away sweat so the players can stay cool and comfortable. Towels should never be used and, instead, should be washed after every practice or games, as sweat harbors bacteria and germs that will smell over time.
 11. Water bottle
Hydration is key to preventing heat exhaustion and improving performance. Make sure that your child has their own water bottle clearly labeled with their name, and that they fill it up with water before every practice. You might also wish to send them with electrolyte tablets, powders or drops to help replenish everything that they are sweating out during practice.
 12. Hand warmers
Hand warmers are a great addition to any outdoor sports practice during cold weather. They can be used in between plays to keep the hands warm and overall body temperature up. Keep them in the car or duffel bag so they will be ready whenever necessary.
 13. First aid kit
Pretty much any team should have a group first aid kit, but it never hurts to have a personal one on hand as a backup. You should also make sure that your child has any medications on them that they might need during practice or a game, such as prescriptions, inhalers and Epi-pens.
Did we miss any small yet important football equipment? Comment below to add to this list or to share your favorite recommendations for football girdles, pro mouthguards, slide sandals and more!