Women who reach the menopausal stage undergo various symptoms that make their life difficult. Some are unable to cope with these changes and may opt for hormone replacement therapy to alleviate the symptoms. The treatment is suitable for most women as the treatment focuses on enhancing hormone production for proper body functioning.
However, as the treatment introduces hormones into the body which are not produced by the system, you may wonder whether it is the right choice. So, here's everything you need to know to understand whether HRT is the right option for you.
Essential Benefits of HRT
HRT has several benefits that can help women with menopausal symptoms to get some much-needed relief and lead their lives comfortably. Some of the benefits of HRT are as follows.
The treatment helps with hot flashes that accompany perimenopause and menopause.
Night sweats are an issue that many women report, which can be alleviated through HRT.
Makes mood swings more manageable.
Provides relief from vaginal dryness by enhancing lubrication.
Improves sex drive
As the treatment maintains a natural level of hormones in the body, it can reduce the risk of osteoporosis by preventing bone weakening.
Who Can Undergo Hormone Replacement Therapy?
HRT can bring positive results in most women undergoing menopause and is suitable for people who lead a healthy lifestyle. However, it may have adverse consequences if the person has any of the following conditions.
If you have high blood pressure, you must get the proper treatment for it before taking up HRT.
People with a history of blood clots, breast cancer, womb cancer, and ovarian cancer are not considered for hormone replacement therapy.
HRT may worsen the condition in those with liver disease and is not recommended.
If you are pregnant, your doctor advises against taking up hormone therapy.
If you are under 50, pregnancy during the HRT treatment is a possibility that may affect your overall health and lead to future complications. So, using contraception for a minimum of 2 years is highly recommended before HRT.
What are the Different Types of HRT?
HRT is available in different types depending on the condition of your womb and the requirement of the body. Visiting an HRT Clinic  can help you understand the various types of HRT, and they can prove beneficial for your particular needs. There are two main types of HRT. These include:
Oestrogen-Only HRT

Oestrogen-only HRT is for those women who have had a hysterectomy. It is a procedure that involves partial or completer removal. Oestrogen-only therapy is suitable for those with no uterus anymore, as there is no need for progesterone hormone.
Estrogen hormone keeps your bones, skin, hair, blood vessels, heart, brain, urinary tract, reproductive tract, and mucous membranes healthy and regulates the ovulation cycle.
2. Combined HRT

Combined HRT involves taking both estrogen and progesterone. It is recommended for women with their wombs intact. Progesterone helps in the regulation of the menstrual cycle by preparing the endometrium, which is the lining of your uterus.
This helps in the implantation of the egg cell and its consequent fertilization. Your chance of developing cancer might rise when you use estrogen alone if you have your uterus. It is so because it can cause the lining of your womb to thicken.
Progesterone or progestogen use eliminates this buildup; therefore, there isn't an elevated risk of cancer associated with HRT.
What are the Various Ways of Taking HRT?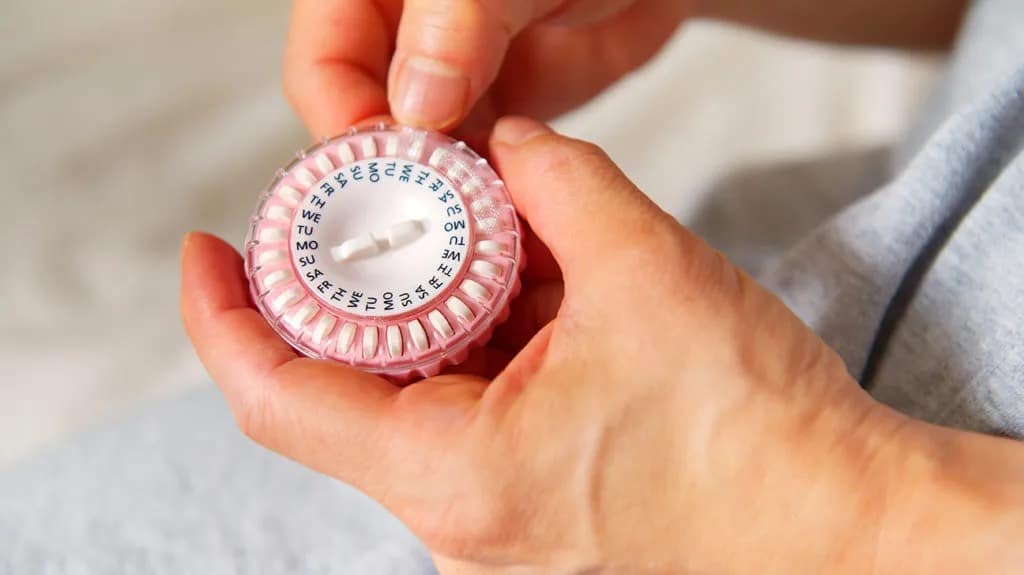 HRT is available in various forms, and women can take it in the following ways depending on their suitability and comfort.
Implants
HRT is available as tiny pellet-like implants that are placed beneath your skin around the belly area after the local anesthetic has been used to numb the area. The implant progressively releases estrogen over a period of months.
An intrauterine system 1https://www.webmd.com/sex/birth-control/iud-intrauterine-device (IUS) is an implant option for you if you need to take progestogen together with another estrogen form. It releases a progestogen hormone directly into your womb.
Skin Patches
If taking a medication every day bothers you, skin patches can be a better solution than pills. And it is a popular HRT delivery method. You attach them to your skin and change them once every three to four days.
You may choose estrogen-only and combination HRT patches depending on the treatment type. Additionally, using patches reduces the chance of blood clots, unlike using pills, which can cause HRT side effects, including indigestion.
Estrogen Gel
A growing number of people are using HRT, which uses estrogen gel. You apply it once daily to your skin. The gel can be a handy method to take HRT and doesn't raise your risk of blood clots, similar to skin patches. However, you will need to take some of your wombs is still intact.
To lessen your chance of developing womb cancer, you will also need to take a separate progestogen if your womb is intact.
Vaginal Oestrogen
Oestrogen can also be applied to your vagina as a lotion, pessary, or ring. It may help alleviate certain symptoms, such as vaginal dryness. However, it may not affect other symptoms like hot flashes.
You may use this method without taking progesterone if your uterus is intact. It does not contain the typical hazards of HRT and does not raise your risk of breast cancer.
What To Expect from Hormone Replacement Therapy?
Within one to three months of starting HRT, you should start to see an improvement in your symptoms. After three months, if you still don't feel better or your symptoms come back, you should probably alter your dosage or try a new kind of HRT.
Women frequently discover that their symptoms don't start to get better until they are given the proper hormone to balance them. It's important to keep in mind that HRT reduces your chance of contracting ailments like osteoporosis and heart disease in addition to treating your symptoms.
Winding Up
Thus, if you are suffering from menopausal symptoms, you can undergo HRT. Also, it's important to keep in mind that HRT reduces your chance of contracting future illnesses like heart disease, osteoporosis, type II diabetes, and dementia in addition to treating your current symptoms.
Additional resources and citations
1

https://www.webmd.com/sex/birth-control/iud-intrauterine-device