Families with children should strive to have a regular bedtime schedule. It helps to keep everyone in the household on track in the evening. By engaging in the same activities, you will help everyone to unwind and relax. Research shows that a nighttime routine also encourages better sleep habits. No matter your kids' age, you can still benefit from having an everyday practice. This guide helps to keep your bedtime schedule as simplified as possible. With a little planning, your kids can rest easier, and you will have more time for yourself.
Make Oral Care More Fun
If your kids stall at night because they do not love to brush their teeth, consider making their oral care routine more fun and exciting. Try choosing products that are backed by research, as well as those that are not tested on animals. A sonic toothbrush for kids is an excellent choice for parents because it is gentle and looks adorable. Its innovative technology will also help your kids' teeth stay clean and healthy.
Sonic toothbrushes can look like cute animals and clean teeth hands-free. They also include red light technology to help increase circulation for the best gum health. Blue light technology helps to kill harmful mouth bacteria so children can prevent decay and cavities.
While they are brushing their teeth with their devices, you can set a fitting example by caring for your smile. Try a teeth whitening kit that is simple to use and whitens faster than other products you have tried in the past. Streamlined kits will also make your routine easier. Teeth whitening gel is gentle on gums and combines on your brush with your favorite toothpaste. Whiten your teeth and beautify your smile while you bond with the kids.
Inspire Your Shower and Bath Time
Bath and shower time can be a challenge for families. No matter what age your kids are, there are things you can do to make bathing simple and interesting. Include unique and out-of-the-box bath toys or tools that your children have not seen before. Colorful, squishy toys are perfect for babies. Toddlers may prefer washable crayons or "swimming" wind-up marine animals.
Shower curtains with colorful prints or fun sayings are always popular. Décor featuring themes like princesses or woodland animals are just some of the ideas that can help to inspire imagination in children of all ages. Tweens and teens may be more encouraged to get clean when there are colorful bath bombs or shower gels made with essential oils. Some will prefer a mini Bluetooth speaker that allows for a little singing but keeps electronics away from the bathroom.
In all, there are plenty of kids' bath and body products featuring fun characters and vibrant colors. Many items come in delicious scents to delight the senses. When buying for children, do your research. Look for clean products that are free of unnecessary additives.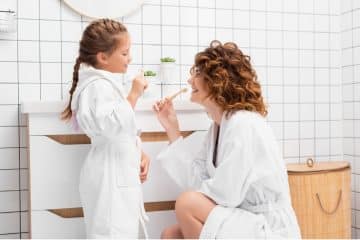 Source: LightField Studios/Shutterstock.com
Streamline Your Family Schedule
Bathing and brushing teeth may be essential, but other activities are unnecessary. Do a simple written exercise to pare down your schedule. First, make a list of the activities you already complete as a family. Then, make another list of what you need to do to get ready for the next day.
Eliminate anything that does not focus on self-care. You may have to move your favorite activities to other times of the day. Try to exercise in the morning or during lunch. If you like streaming your favorite shows, move it to an earlier time. Consider whether you can save your favorite leisure activities for the weekend.
Start Your Routine Earlier
A rushed schedule in the evening can lead to forgotten priorities and cranky kids. It can also cause stress when all you need is relaxation and good rest. If everyone is getting to sleep too late, start your activities earlier. Adjusting by 30-60 minutes can make a significant impact. For some households, this may require a little creativity. Older kids can complete final activities in their room while babies and toddlers get their rest in a quiet wing of the house.
Keep adjusting the routine until it makes sense for everyone. Each family is unique, and experimentation may be all you need to get it right. According to Verywell Health, adults and children should go to bed at a time that is based on their age. Adults need less sleep than their kids, so getting children to bed on time allows for more parental self-care.
Take Time to Relax and Unwind
As you create your new schedule, be sure that kids complete louder and busier items at the beginning of the routine. Brushing teeth and bathing should be the first part of the schedule. Leave quieter activities like reading books and meditating for the final minutes.
Discover ways that your children can relax based on their age. Infants and toddlers love stories and lullabies. Older kids may like to listen to calming music or engage in deep breathing practice. The National Sleep Foundation recommends turning off devices at least one hour before bedtime. This includes televisions and tablets, as well as computers and smartphones.
Numerous research studies have shown that blue light and digital technology can affect sleep cycles and disrupt sleep. Turning off the tech and giving the brain time to unwind will make it easier for everyone in the family to fall asleep at night. This practice also encourages more restful sleep.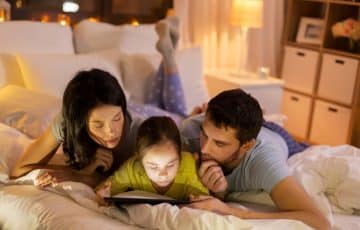 Source: Syda Productions/Shutterstock.com
Create a Peaceful and Convenient Bedtime Routine
When you have a busy day and a packed schedule, the last thing you need is a rushed evening. Take time to create a new schedule for your family and you will enjoy a more peaceful night's sleep. While your kids will rest easier, you will also have more time for relaxation and self-care. Less stress and more sleep translate to better wellness for everyone in your home.