Adodun is a locally made sex sweetener, meant to make sex more pleasurable for both men and women. It is said to be so potent that it is recommended for only married couples. Although there are claims that adodun is a fetish combination of ingredients to help ladies hook a man to themselves through unparalleled sex, it is unproven.
Adodun is available in different forms and can be seen everywhere online, with many women praising it for its efficacy in helping them hold down their men. Despite its affiliation to fetish practices, its patronage is high and there have been no scientific means to measure how true its efficacy is. No man has come out to speak of how exquisite their sexual encounter with women that use adodun is.
In this article, we will see how you can make adodun at home by highlighting the ingredients used in making it. We will also consider the different types of adodun that people commonly use and have been praised for their effectiveness.
What is Adodun (Sex Sweetener)?
For a lady that is unfamiliar with the workings of the sex enhancers industry in Nigeria, it is scary and risky to venture into it. This is because the testimonies of users of sex sweeteners portray their men as irresponsible and the only means of getting them to do their women's bidding is to use Kayanmata, also called adodun. This makes adodun seen as a fetish means of holding your man among ladies.
However, according to some producers and sellers of kayanmata, also called adodun, it is made from herbs, fruits, and spices. However, they do not dispute the presence of some adodun that employ some fetish elements to tie down men.
Adodun, called kayanmata in the northern part of Nigeria, directly translates to sweet sex. It has been in existence for a long time but has recently seen a resurgence due to the anonymity that exists on social media, where they are mostly advertised and bought.
Types of Adodun (Sex Sweetener)
There are different types of adodun and they can be used in different ways. Generally, adodun is meant to make a man enjoy sex better with a woman, consequently making him satisfied with that woman, and protecting the latter from heartbreak or making the former do what she wants.
The different types of adodun employ almost the same ingredients but have some different elements. While some are consumed like soup, others are chewed like gums, and some are consumed like candy. All forms of adodun are said to be effective, and they include:
Adodun Oil
Adodun oil is largely used as a sex lubricant. The herbs used for kayanmata are pressed so that the oil from them is removed and transferred into a small bottle. The bottle may have a dropper at the top, or the oil may be applied to the vagina by hand.
Adodun oil reduces friction on the vagina surface, making penetration easier, and sex more enjoyable for both parties. It is suitable for women who hardly get wet during foreplay and sex.
Adodun Soap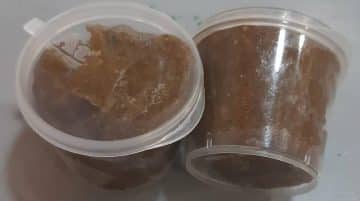 Adodun soap is majorly for vagina tightening. It is used to wash the vagina surface (this is unadvisable) to pull the flesh together and make the pelvic floor tighter. This helps the woman reach a more intense orgasm during sex and the tight grip on the man's penis makes him enjoy sex more.
The herbs are burnt and used to make this soap that enhances the sex life of its users.
Adodun Soup
This is an edible version of adodun, also called kayanmata. The herbs used in making adodun are combined with camel's milk, and sometimes, tiger nut milk, to prepare a potent concoction. The concoction is usually used to make chicken, beef, or fish soup, which the woman consumes at a go.
This type of adodun is used only once in about six months.
How to Make Adodun Soap?
Some years ago, it will be unheard of to seek a solution of this nature to your sexual challenges. However, some companies have taken it upon themselves to produce these sex enhancers in large quantities. While these companies make a lot of money from producing adodun and kayanmata, they have put in measures to make sure their methods are not publicized.
Getting the knowledge of making adodun soap, adodun oil, or adodun soup, begins with knowing the right ingredients to use, and how to combine them, in the right proportion and order. However, there is little to no information in that regard for anyone to access for free.
Currently, it is best to purchase already-made adodun for use rather than make one as you aren't sure if you're doing it right or not.
Conclusion
Adodun is an aphrodisiac or sex enhancer that is locally made for women's use. It is equivalent to the Northerner's kayanmata but unlike it, is available as soaps, oil, and soup ingredients. It helps to moisten the vagina, tighten it, and improve the sexual experience for its users.
To get to know how to make adodun soap at home, it is better to pay for a class as advertised on many social media handles to get a quality education.