Digital humidity meters or the Hygrometers are used to find the humidity present in a room, hall or anything. Well, it is said that there are many things that can make inaccurate values in these digital hygrometers. However, nothing is perfect, but sometimes due to some major problems, these hygrometers can show deflection in their digital values for sure.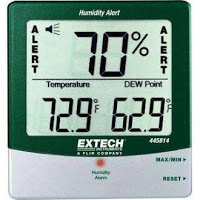 You have to be smart enough to know that you shouldn't fall into the trap if the digital value keeps changing without any temperature change. Anyways, if you are in such a scenario, then it is almost impossible to get this much deflection in the real world.
Common problems of Inaccurate Readings
There can be many things that can cause these hassles and foes and you need to fix them. These are some of the common problems that can cause such things to your digital humidity meters. So let us get to it –
There is always some error in our reading and even if you make up the accurate reading with the most expensive humidity meter, then also there will be an error in the readings. Sometimes this happens at a large scale when your problem is with the sensor and if it has a problem then your sensor. Let us take it the meter has a tolerance of +/- 5 then your reading will get deflected by the value of 5.
2) Contaminants or Damaged Batteries
If you are not much of a user of these meters and the digital meter has been rolling around your house, then you might end up damaging it. This can build up rust on the meter, or it can have the batteries dead. Never go out using up the meter after years and always have a look at the performance. Keep proper care of your digital meter so that you can get the proper reading.
How to find the Accuracy of Digital Humidity Meter?
There are many things and experiments that you need to do to find the accuracy of your digital meter. Try out these things as mentioned below –
1) Meters Locations and Stability
When you are looking out to find the accuracy, then you should compare between two meters to find the accurate accuracy. Keep that in mind that you are using the meters that are both stabilized and are at the same location.
A minor change in the location can make a lot of changes in the values that you are getting. You have to take care of all these things, and it will help you in the long run. With the proper conditions and the same scenario in both the meters can help you to get the needed results on your Humidity Meters.
Keeping Sensor Tolerance can take you to the best result so far. Many of us ignore such important things that matter the most. Try to get more than 5-6 reading and take the average amount of error to get the proper inaccuracy.
RELATED READING