A concussion is the most common and least serious type of traumatic brain injury is called a concussion. The word comes from the Latin concutere, which means "to shake violently."
According to the CDC, between 2001 and 2009, an estimated 173,285 people under age 19 were treated in hospital emergency rooms for concussions related to sports and recreation activities. Other causes include car and bicycle accidents, work-related injuries,
traumatic dental injuries
, and fighting.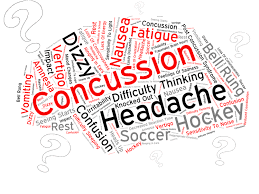 Source: concussionu
 Top Questions On Concussion
How can you tell if you have had a concussion?
Is it always serious?
And what should you do if you have a concussion?
What Is a Concussion?
A concussion is most often caused by a sudden direct blow or bumps to the head.
The brain is made of soft tissue. It's cushioned by spinal fluid and encased in the protective shell of the skull. When you sustain a concussion, the impact can jolt your brain. Sometimes, it literally causes it to move around in your head. Traumatic brain injuries can cause bruising, damage to the blood vessels and injury to the nerves.
The result? Your brain doesn't function normally. If you've suffered a concussion, vision may be disturbed, you may lose equilibrium, or you may fall unconscious. In short, the brain is confused.
Can Children Have Concussions?
Because their heads are disproportionately large compared to the rest of their body, concussions often occur in young children. As kids enter adolescence, they experience rapid height and
weight gain
. Both are factors that make them more prone to accidents than adults.
If a child has a concussion, an adult should monitor him or her for the first 24 hours. It's important to watch for behavioral changes. Young children, especially, may not be able to fully communicate what they are feeling, so it is critical to watch them closely. Do not give medications, including aspirin, which may cause bleeding, to a child without consulting a doctor.
What Are The Treatment of Concussion?
The seriousness dictates what kind of treatment you should seek. Most people with concussions fully recover with appropriate treatment. But because a concussion can be serious, safeguarding yourself is important.
Here are a few steps to take:
Seek medical attention.
A health care professional can decide how serious the concussion is and whether you require treatment.
 If you have suffered a grade 1 or grade 2 concussion, wait until symptoms are gone before returning to normal activities. That could take several minutes, hours, days, or even a week.
If you have sustained a grade 3 concussion, see a doctor immediately for observation and treatment. A doctor will ask how the head injury happened and discuss the symptoms.
The doctor may also ask you simple questions such as "Where do you live?" "What is your name?" or "Who is the president?" The doctor asks these questions to evaluate memory and concentration skills.
The doctor may test coordination and reflexes, which are both functions of the central nervous system.
The doctor may also order a CT scan or an MRI to rule out bleeding or other serious brain injuries.
If hospitalization is not required, the doctor will provide instructions for recovery. Aspirin-free medications may be prescribed and you will be advised to take it easy. Experts recommend follow-up medical attention within 24 to 72 hours if symptoms worsen.
What Are the Signs and Symptoms of a Concussion?
Concussions are complicated to diagnose. Though you may have a visible cut or bruise on your head, you can't actually see it. signs may not appear for days or weeks after the injury. Some symptoms last for just seconds; others may linger.
Concussions are fairly common. Some estimates say a mild brain trauma is sustained every 21 seconds in the U.S. But it's important to recognize the signs of the disease take the proper steps to treat the injury.
There is some common physical, mental, and emotional symptoms a person may display following a concussion. Any of these could be a sign of traumatic brain injury:
confusion or feeling dazed
clumsiness
slurred speech
nausea or vomiting
a headache
balance problems or dizziness
blurred vision
sensitivity to light
sensitivity to noise
sluggishness
ringing in ears
behavior or personality changes
concentration difficulties
memory loss
What Are The Prevention of Concussion?
By its very nature, it is unexpected, so it is tough to prevent. But there are several common-sense precautions you can take to lessen the possibility of traumatic brain injury.
Wear protective equipment. Participation in high-contact, high-risk sports such as football, hockey, boxing, and soccer can increase the likelihood of a concussion.
Skateboarding, snowboarding, horseback riding, and rollerblading are also a threat to your brain's health.
Wearing headgear, padding, and mouth and eye guards can help safeguard against traumatic head injuries.
Wearing a bike helmet can lower the risk of traumatic head injury by 85%. Ensure that the equipment is properly fitted, well maintained, and worn consistently.
Drive and ride smart.
Always wear a seatbelt, obey posted speed limits, and don't use drugs or alcohol, because they can impair reaction time.
Don't fight. Concussions are often sustained during an assault, and more males than females report traumatic head injuries.
Sources
SOURCES:
familydoctor.org: "Concussion in Sports."
KidsHealth: "Concussions."
CDC: "Heads Up: Concussion in Youth Sports" and "What Is Traumatic Brain Injury?"
Dayton Children's Child Health Information: "Instructions for Watching a Child Who Has a Brain Injury."
WebMD Medical Reference: 
Concussion: Symptoms, Causes, Treatments