You are most likely here maybe because you are curious about whether shark meat is a delectable delicacy or something best left untouched. That's quite understandable, the last thing anyone would want is to consume contaminated or unsafe seafood. 
Sharks have long been regarded as some of the most majestic and fearsome creatures in the ocean. But what about their meat? Can you eat sharks? The answers to these questions and more will be revealed here and who knows, maybe the answers might just leave you surprised.
In this short guide created just to uncover the truth about shark consumption, we'll take a closer look at some important factors that will help you decide if it's okay to eat shark meat or not. We'll even share recommendations on the most popular shark species to consume – if it's safe to eat shark meat. 
Can You Eat Sharks?

 
One of the most frequently asked questions regarding sharks is whether they can be consumed as food. Surprisingly, the short answer is YES! Shark meat can actually be consumed as food.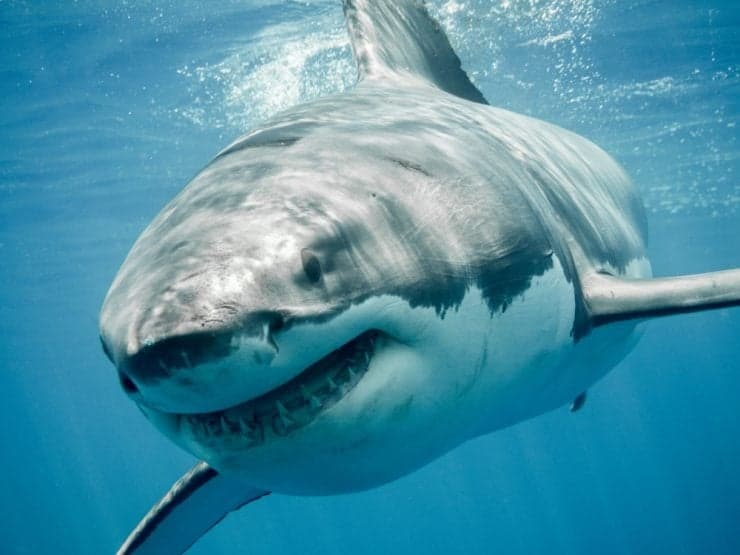 The consumption of shark meat can be dated as far back as the 14th century during the 'middle ages' era. Today, it is still considered a delicacy in many countries of the world, including Iceland, Japan, Australia, India, China, Canada, Korea, Taiwan, Vietnam, Sri Lanka, South Africa and Mexico. 
However, while it is technically possible to eat Shark meat, not all species of sharks are good for consumption (details of this and more will be explained along the way). Also, it's really crucial to understand the health risk associated with consuming shark before giving it a try. 
Is Eating Shark Meat Healthy?
Absolutely! Shark meat are known to have a number of potential health benefits, some of which are listed below;
Shark meat is known to be high in omega-3 fatty acids, which are essential for maintaining heart health and reducing inflammation in the body. These fatty acids have also been linked to improved brain function and overall well-being.

Shark meat is a good source of lean protein, providing all nine essential amino acids that our bodies need for various functions such as muscle repair and growth.

Shark meat contains significant amounts of vitamins B6 and B12, which play vital roles in energy metabolism, nervous system function, and red blood cell production.
However, it's important to note that some species of sharks may contain high levels of mercury due to their position at the top of the food chain. Mercury can be harmful to the body when consumed excessively over time. 
Therefore, pregnant women or those nursing should exercise caution when consuming shark meat due to its potential mercury content.
What Does Shark Meat Taste Like?
If you're curious about what shark meat tastes like, you're not alone. Many people wonder if it has a fishy flavour or something entirely different. The taste of shark meat can vary depending on the species and how it's prepared.
Some describe the taste of shark as being similar to other types of fish, such as tuna or swordfish. Generally, shark meat has a mild and slightly sweet flavour that is often compared to chicken or pork. However, others say that certain species of shark have a stronger and more distinct taste.
The texture of shark meat also varies from species to species. Some sharks have firm flesh similar to steak, while others are softer and more delicate. Regardless of the texture, shark meat is generally lean and low in fat.
When cooking with shark meat, it's important to keep in mind that its unique taste may require some adjustments in seasoning and preparation methods. Marinating the meat before cooking can help enhance its natural flavours.
Can You Eat Shark Meat Raw?
Many people wonder if it is safe to consume shark meat raw, just like they would enjoy a delicious plate of sushi or sashimi. The truth is, eating shark meat raw can be risky and potentially harmful to your health.
Raw fish consumption has become popular in recent years, with an emphasis on freshness and quality. However, unlike other seafood options like tuna or salmon, consuming raw shark meat comes with its own set of risks.
Sharks are known carriers of parasites and toxins due to their position at the top of the ocean food chain. These predators accumulate high levels of mercury and other heavy metals in their bodies over time. Consuming raw shark meat can expose you to these harmful substances, leading to potential health problems such as mercury poisoning.
Also, shark meat has a strong ammonia odour when killed. This is possible because sharks generally don't urinate as human or other animals do but rather, urinate through the skin. So basically, they absorb the urea into their flesh, this process then turns it into ammonia which is later expelled out of the skin. The buildup of ammonia compounds affects the taste and texture of the meat.
It's best to avoid consuming shark meat raw due to potential parasitic infections, high levels of mercury contamination and ammonia compounds. It's always safer to cook your seafood thoroughly before indulging in its flavours.
Which Popular Shark Species Are Good to Eat?
When it comes to eating sharks, not all species are created equal. Some shark species contain high levels of mercury and other contaminants, making them unsafe for consumption. 
However, there are a few shark species that are considered safe and even delicious to eat.
Mako Shark

: Makos have a mild flavour and firm texture, similar to swordfish. They can be grilled, boiled, baked, or used in recipes calling for fish steaks.

Thresher Shark

: Threshers have a sweet and slightly nutty flavour with tender meat that lends itself well to grilling or pan-searing. It is often used in delicacies such as shark steaks, and shark stir-fry.

Blue Shark

: Blue Shark has a stronger taste compared to others but can still be enjoyable when prepared correctly. It is often used in delicacies such as shark steaks, shark curry, and shark soup. 
Other examples include Blacktip Shark, Dogfish Shark etc. It's important to note that while these specific shark species may be safe for consumption in moderation, it's crucial for you to know where your seafood is sourced from and how it was caught. Sustainable fishing practices help protect sharks from overfishing and ensure their populations remain healthy.
What are the Negative Health Effects of Eating Shark?
While sharks are edible, they can also have a dangerous impact on human health as well. Sharks produce harmful chemicals and toxins in their body. These toxins accumulate in their flesh and when consumed by humans, these toxins are passed down into the body, having adverse effects on human health. 
Let us see which toxins shark meat has in its body! 
First off, is the high mercury content found in many species of sharks. Excessive consumption of shark meat can lead to mercury poisoning, which can cause neurological damage, especially in pregnant women, nursing mothers, young children, and those with compromised immune systems. 
The accumulation of mercury in the body over time can also lead to cardiovascular problems and kidney damage.
Another potential health concern is the presence of other harmful pollutants in shark's meat such as;
PCBs (polychlorinated biphenyls)

DDT (dichloro-diphenyl-trichloroethane)

BMAA (beta-Methyl-amino-L-alanine), 

Ciguatera. 
Regular consumption of contaminated shark meat may increase the risk of developing certain cancers and can disrupt hormonal balance.
How Expensive Is Shark Meat?
How expensive is shark meat? The cost of shark meat can vary depending on various factors such as the species, location, and market demand. Generally speaking, shark meat tends to be pricier compared to other types of seafood due to its limited availability. They are most likely to cost around $30 per pound 
So, if you're looking to try some shark meat, be prepared to pay a premium price for this unique culinary experience.
Where Can You Buy Shark Meat?
If you're feeling adventurous and curious about trying shark meat, you may be wondering where to find it. While it's not as readily available as other types of seafood, there are still some places where you can buy shark meat.
One option is to check your local fish market or specialty seafood store. They may occasionally have shark meat in stock, especially if they cater to a diverse customer base looking for unique culinary experiences.
Another avenue to explore is online retailers. There are several websites that specialise in selling exotic meats, including shark. Just make sure the retailer follows proper safety regulations and sources their products responsibly.
You might also want to consider visiting coastal areas known for their fishing industry or popular tourist destinations with a focus on seafood cuisine. Restaurants in these regions often serve dishes made from locally caught sharks, giving you the opportunity to try them firsthand.
However, keep in mind that due to concerns over sustainability and conservation efforts, many countries have restrictions on catching certain species of sharks. So before purchasing or consuming any shark meat, ensure that it comes from legal and sustainable sources.
How to Prepare and Cook Shark?
Preparing and cooking shark can seem intimidating, but with the right techniques, you can create a delicious and satisfying meal. 
Here are some steps to help you prepare and cook shark:
Choose fresh shark meat

: When buying shark meat, make sure it is fresh and sourced from a reputable supplier. Look for firm flesh that has a mild odour.

Remove the skin

: Before cooking, remove the tough skin of the shark using a sharp knife. Start by making an incision along one side of the fillet and carefully slice away the skin in long strokes.

Marinate for flavour

: Shark meat benefits from marinating to enhance its taste and tenderness. You can use various marinades like lemon juice, garlic, herbs, or your favourite seasonings.

Cooking Methods

: Choose your preferred cooking method such as grilling, baking, broiling, or pan-frying.

Cook until required temperature

: Cook the shark meat until it reaches an internal temperature of 145°F (63°C) to ensure it is fully cooked. Use a food thermometer to verify the temperature and avoid overcooking. 

Garnish & Serve

: Once cooked, garnish your shark with fresh herbs like parsley or cilantro for added freshness before serving it alongside steamed vegetables or rice pilaf.
Remember to always follow proper food safety guidelines when handling raw seafood such as washing hands thoroughly after touching raw fish/meat surfaces!
Final Advice
There you have it! I hope we've been able to address your curiosity as to whether or not shark meat is safe for consumption. While it is technically possible to eat shark meat, there are several reasons why it is not recommended. 
Eating sharks can be dangerous for humans due to the high levels of mercury and other toxins found in their flesh. Also, there are ethical concerns surrounding the consumption of sharks, as many species are endangered or facing significant population declines.
Although, If you still wish to try preparing and cooking shark meat at home, exercise caution by following proper handling and cooking guidelines. Don't opt for fresh meat rather, buy cured shark meat if you want to make things a little more safer for you.