Applying sunscreen, particularly to exposed areas of the body, is not a top concern for the vast majority of individuals. 
Your whole body, including your face, should be covered at all times to prevent skin cancer caused by the sun's ultraviolet radiation.
The most critical consideration when thinking about sunscreen is the need to actually use it. 
Therefore, investing in a high-quality sunscreen cream while shopping for one is crucial.
Sunscreens may either be chemical or mineral or physical, and it's crucial to know the difference. Sunscreen, sunblock, or sun lotion are various names for the same product.
The top 10 inexpensive sunscreens for your face and body in Nigeria are listed below. These sunscreens follows skincare guidelines.
The Neutrogena Sunscreen offers long-lasting skin hydration as well as protection.
Because of its blendable, non-irritating, and non-comedogenic components, this sunscreen is an excellent SPF for areas other than your face.
This sunscreen protects against UVA and UVB rays without clogging pores or causing skin outbreaks. 
It is perfect for skin that is prone to acne because of its unique sweat-minimizing technology.
This sunscreen is very stable because it has anti-inflammatory and protective properties in its concentration.
This broad-spectrum SPF is made to make your skin look better and protect it.
Skin Doctor Sunblock Refreshing Cream is a multi-purpose product that can be used to protect the skin from UVA and B rays and bring out its natural tone. It has an SPF of 80/PA+++. 
Feature: Brightening, refreshing, hypoallergenic, moisturizing, smoothing, softening, and has sun protection.
This brightening sunscreen combines the benefits of SPF with skincare.
It also uses a blend of rich antioxidants that remove discoloration, prevent acne, and fight early aging while protecting the skin from UVA and UVB rays.
Helps stop UV exposure from causing dark spots, sunburn, early aging, and skin discoloration.
Doesn't leave dark skin with a white film. Can be used on both children and adults. Not going to block pores.
Read Also: The Top 10 Skincare Tips From Dermatologists
4. Neutriherbs Vitamin C Sunscreen SPF30
This Sunscreen is great for traveling, and it also makes applying it again more accessible and more comfortable. With this sunscreen, you don't have to worry about any scraps being left behind.
And the best part is that Neutriherbs Sunscreen is made of natural minerals like zinc oxide, which act like a shield by sitting on top of your skin and deflecting the sun's rays so that your skin doesn't get hurt by being in the sun.
This sunscreen is strong enough that it doesn't make your skin white or chalky. This lotion makes it easy to get better protection and use an adequate quantity of sunscreen.
A wide range of photostable UV filters are used by ALTRUIST. It can be used every day on both adults and children.
Easy to use, just spray it on and rub it in! It soaks up quickly, doesn't stick, and leaves no residue.
6. Hawaiian Tropic Sport SPF 50 Sunscreen
If your everyday activities include swimming or sweaty exercise, you must use water-resistant solutions and reapply every hour or so to provide continuous body covering.
Using its water-resistant and non-comedogenic qualities, this lotion protects your skin throughout strenuous outdoor exercise or a short stroll.
It provides a broad-spectrum SPF 50 barrier against the harm caused by UVA and UVB radiation.
7. Missha Safe Block Aqua Sun Gel SPF50
This sunscreen can be used every day to take care of your skin by protecting it from UV rays and other harmful things in the environment.
All Around Safe Block Waterproof Sun Essence SPF 50 protects very well against UVA and UVB rays. Helps stop sunburn and lowers the risk of skin cancer and getting old too quickly.
How to use: Put on 30 minutes before going out in the sun for the best protection. Apply more every two to three hours or whenever your skin gets wet or sweaty.
This sunscreen is perfect for daily use because of its lightweight, non-greasy composition, which makes it feel comfortable and is hardly perceptible on the skin. It works well with every skin type.
It has antioxidants like hyaluronic acid and niacinamide, which make it a unique formula for brightening and moisturizing the skin.
Niacinamide has been shown to make pores smaller, stop the skin from making too much oil, fix sun damage, and slow the appearance of lines and wrinkles. UVA, UVB Protection System that lasts a long time.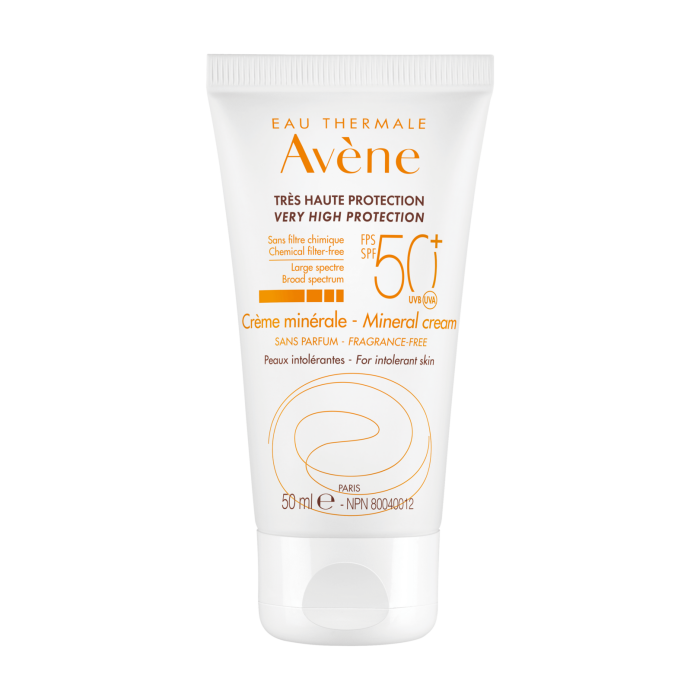 This fragrance-free mineral sunscreen was developed for the face, but it may be used elsewhere on the body. 
The non-greasy composition of this SPF makes it ideal for application all over the body.
Very high protection from the sun for the face of adults and children whose skin is sensitive to chemical filters and scents.
Leaves a noticeable white cast on the skin on purpose, so that it can be seen and used safely.
Recommended for very sensitive skin, like that of children, or skin that has been made more sensitive by things like intolerances, eczema, cancer treatments, etc.
This sunscreen offers roughly 80 minutes of water-resistant sun protection and is good for those with sensitive skin.
This hydrating sunscreen lotion gives your skin a moist base and is a moisturizing sunscreen lotion. The best natural way to protect from the sun.
This broad-spectrum SPF 50 sunscreen is safe for even the most sensitive skin because it is made with zinc oxide and oat, both of which come from nature.
Plus, it feels light and doesn't leave behind any oil, so it's a great addition to your daily skincare routine.
Where to Buy Sunscreen in Nigeria: 
On Jumia or Konga, you can buy original sunscreen from trusted sellers online.
Recommended for you: Four Things You Can Try To Remove Stubborn Acne
Conclusion and Recommendations:
There are several different types of sunscreen for the face, including oil, lotion, and essence.
Finding a sunscreen that works well for you is the most crucial objective, however. 
Your skin shouldn't be irritated by a white cast or residue from a good sunscreen.
Still, choosing the best sunscreen requires careful thought, starting with how much protection from the sun you want. 
Sunscreens that are made of minerals or chemicals are the best.