This post is also available in: Français (French) ìɡ͡bò (Igbo ) Yoruba
As the medical field has advanced, so has the once-iconic nurse's uniform. The white dress with stockings and the easy-to-recognize white nursing cap gave way to more sensible choices, such as scrubs, that allow nurses to work more efficiently and comfortably. However, as uniforms have become more, well, "uniform," many nurses might find it difficult to impart their own sense of personal style on how they dress for work every day.
The typical hospital workplace still expects a professional appearance and prohibits nurses from wearing clothing items such as jeans and t-shirts. This can make it challenging for nurses not to fall into the standard blue scrubs routine that makes you feel indistinguishable from the crowd. But it doesn't have to be that way! With the variety of fun and customizable yet sensible wardrobe options available online for nurses today, you can express your sense of fashion while still maintaining your professional image.
What to Consider
Unlike other jobs with fairly flexible dress codes, nurses have various factors to consider when dressing for success:
 1. Functionality
As a nurse, the most important aspect of your outfit is its functionality. It is vital you maintain easy freedom of movement so you do not feel restricted in your clothing when you are caring for patients. Nurses typically have to move more throughout their workday, bending over, squatting down, and crouching to assist patients, and you don't want to constantly have to shift or reposition your clothing as a result.
 2. Personal Style
Just because you are wearing a uniform, you shouldn't have to sacrifice your own style. Your personality is important, and it is what connects you with the patients. Maintaining your individuality can help you to feel happier and more confident in your practice.
 3. Dress Codes
To take the ambiguity out of hospital dressing etiquette, some hospitals in the U.S. have implemented a uniform policy for their staff, and it is essential you consider this when developing your wardrobe. Nurses may be required to wear a specific color or even particular prints with different colors that are assigned to various departments.
4. Professional Image
Studies have shown that, when it comes to the healthcare field, perceptions really matter. What we wear sends a clear message about how we value ourselves. Your professional image is important, and patients may understandably make judgments on your quality of care based on how you look.
How to Personalize Your Wardrobe
After taking all these aspects into account, you may be thinking that it is impossible to implement your style into your wardrobe as a nurse. Think again! The following guide can help you dress professionally and fashionably, from top to toe.
 1. Hair and Makeup
Whether you want to wear makeup to work is up to you. However, if you do decide to wear makeup for your shift, keep it modest, fresh, and light to give your patients the right impression. If your hair is below collar length, it should be tied back in a neat or professional style, such as a ponytail, bun, or braid. Keep any facial hair neatly trimmed, clean, and brushed.
 2. Jewellery
If you wear a watch during your shift, it's essential that it is a waterproof model that is easy to clean and read. Consider choosing a watch that displays the time and date in the military format, as this can make tracking time for filling out forms and reports easier. Avoid jewellery that can be pulled or get caught easily. Opt for your favorite stud earrings over hoops, and make sure your necklaces can be tucked away.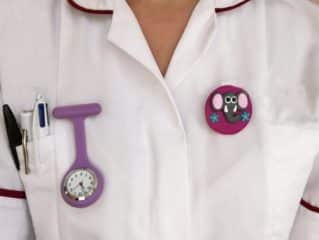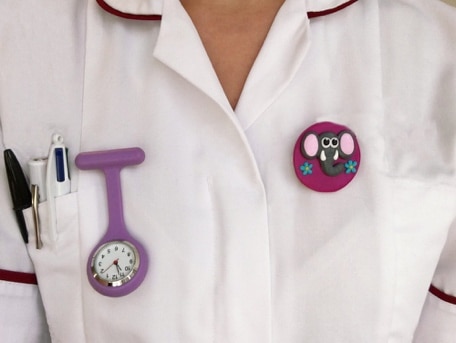 3. Accessories
If your institution permits, fun accessories can be a great way to remain within the dress code while showing off a little bit of your flair. This can include a bold, bright pink scrub cap to show your support for your breast cancer patients or a fun print to show off your dedication to your favorite sports team. A cute and personal name-badge holder is another fun and practical way to customize your uniform. Accessorizing not only helps you to feel comfortable, confident, and more like yourself, it also helps patients relate to you and develop a level of trust that increases their perception of your quality of care.
 4. Scrubs
Choosing the right scrubs to wear for your shift is critical, and your main priorities should always be comfort and free, unrestricted movement. To maintain your style, choose scrubs that will suit your body type, and wear complementary colors and prints that lend a composed look. Look for features like handy pockets and ventilated side panels for a uniform that is both stylish and practical.
 5. Shoes
As a nurse, you are often on your feet all day, and finding the right pair of comfortable shoes can make all the difference to your shift. When you are choosing your shoes, remember your hospital's requirements concerning footwear, which often stipulate that you wear full shoes with no open toes or holes.
 6. Socks and Stockings
In a single shift, nurses walk miles. As a result, you need to ensure you are taking proper care of your feet. Along with a suitable pair of shoes, opt for socks in a breathable moisture-wicking material like cotton, which is also odour resistant. Some nurses also wear compression stockings throughout their shift to prevent leg fatigue and varicose veins. These are available in various lengths, styles, and colors to add a little bit of customization to your wardrobe, even if it is only for you to see!
Final Thoughts
Once you have nurse's style down, it is important to take proper care of your wardrobe so that it will last as long as possible. Rather than going directly to the bargain bin, opt for high-quality materials that won't wear and tear as quickly, and always iron after each wash to keep from appearing crumpled and untidy.
Though it requires a little bit of planning and forethought, achieving the perfect balance between expressing your identity and ensuring professionalism as a nurse is entirely possible. Have fun and experiment with what works for you, and you'll find that, with the right accessories, colors, and styling routine, you'll always look your best, no matter what.