Starting a new job can be overwhelming and being a new nurse practitioner is just as exciting as it is paralyzing. While you have graduated with all the tools and knowledge necessary to start this fulfilling career, there's still a learning curve when it comes to getting down to business. Experts had to start out as beginners at one point though, right?
Being a nurse practitioner comes with a lot of work. There are so many things to soak in, not only through onboarding but in getting familiar with a new work environment and culture and meeting the expectations of the job. Don't fret. There are tips for new nurse practitioners you can utilize with best practices to overcome any challenges you may face and rise to the top.
Focus on Patient Care
It goes without saying that the patient always comes first. You are in the profession of care and do no harm. Harness your knowledge, rely on communication, stay abreast of new information and utilize clinical tips to best serve your patient.
Mind Your P's and Q's
Along with all of your medical knowledge, you'll come to find, if you have not already, that being a nurse practitioner in the modern era comes with a requirement of technical proficiency. You must be aware of how to document, report and gather information in addition to conducting yourself in the workplace. It all must be done carefully with attention to detail.
It will be advantageous to stay informed on clinical processes, medical technology innovations, and digital tools. In addition to this, it is also important to know the best practices, policies, and procedures that must be adhered to at your place of work. Professionalism must be standard as you move in this unique work environment.
Maintain Work-Life Balance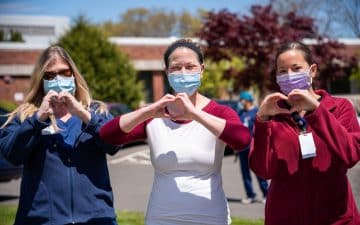 Professions in the medical field are notorious for disrupting the work-life balance. Many medical professionals find it especially challenging to balance personal and professional life due to the stress, amount of work, and personal expectations.
When starting a new job, particularly, it is hard to separate from work responsibility. What's to stop you from taking work home, right? Over time, it becomes a toss-up on whether work-life balance can be attained.
The challenge comes in setting clear, and defined lines for work and personal. It is critical to find ways to leave work at work and find something to engage you in your off-time so you are not tempted to pick up work in the comforts of your own home. Dive into new and fun hobbies, schedule activities with friends and family, or just relax.
Stay Up-to-Date
The medical field is one that is frequently growing and expanding. Research is always being conducted and medical innovation with the assistance of advanced technologies continues to propel development forward. For this reason, it is essential to stay up-to-date on new and ongoing research.
As a professional in the medical field, it is your responsibility to do the due diligence of researching. A wise person realizes that they don't know everything. On-going research means that things one knew might have changed and learning is life long pursuit.
There's no harm in doing a bit of research, and with all of the resources and tools available, it is easier now more than ever to gather and synthesize information. A plethora of apps, articles, journals, online databases, and even podcasts are at your disposal.
Master Communication
Communication is a key competency in any job role and especially for a nurse practitioner. You need to be able to communicate effectively with patients, patient family members and friends, colleagues, and other professionals.
The highlight of communication as a nurse practitioner will be verbal reports. It is vital to know how to give verbal reports to physicians, what information is urgent, pertinent, and necessary all in a concise manner.
Keep the Right Attitude
Attitude on the job is important. Your attitude will influence your entire work experience, how you interact with patients and colleagues, the stability in your personal and professional life, and how far you go in your career.
So, remember to stay confident. You have done the work and put in the time. You earned your white coat. Harness the knowledge you have obtained and the skills you refined to do your job with the utmost confidence. This will be reassuring for not only you but your patient.
Stay positive. A positive outlook can turn around any situation. There may be days when it's challenging to stay positive. In the case of patients, it's helpful to turn to pragmatism or compassion. You have the pleasure of working in an honorable profession where ethics and morality are esteemed.
Maintain a level of respect. Earning respect might be difficult, but a commitment to excellence, an openness of mind, respect for others, and honest effort at fostering relationships can help you surmount those challenges.
Also, never get too big for your white coat. As a new employee remember nothing's wrong with showing a little humility. Do not get caught up in a war of egos. It's the patients who matter and nothing should be put above caring for them.
Know Where and When to Reach Out
Starting a new job can be a lot. You're no longer in school and every action must be executed well. To avoid burnout, on-the-job mishaps, or worse it is important to know when you feel like you might be drowning in work. Even better, recognize your mental health status before it gets to that point and take a step back, reassess, and get help.
On the professional level, if you feel like you are not getting the needed support, speak with your fellow co-workers to gain insight and advice on what to do to resolve this. It's always important to feel valued and supported on the job to do your best.
While there are many points to get acquainted with on your new job, these helpful tips for new nurse practitioners should get you well on your way to becoming a confident and experienced nurse practitioner in high regard. The transition into your new position may not be seamless but it can be successful and lead to a long and fulfilling career in medicine.