This post is also available in: Français (French) ìɡ͡bò (Igbo ) Yoruba
A major benefit of Kunu aya drink is that it has been used for centuries in northern Nigeria to boost male sex hormone and to treat premature ejaculation naturally without side effects. 
The Natural aphrodisiac is known for boosting male sex drive. The only difference is the addition of soaked tiger nut (Aya) and dates palm (dabino) to the grain before blending. 
The procedure for making Kunu Aya drink
Fresh and milk from 1 coconut

10 medium-sized dates

2 cups of tiger nuts

1 piece of ginger
Soak the tiger nut overnight in freshwater. Put the soaked tiger nut, coconut flesh and milk halved dates, and chopped ginger into a blender, add a little water and blend. Strain the blended paste through a filter, leave the milk aside, put the paste back into the blender with water, and strain again. Combine the two portions of milk and refrigerate Kunun aya before serving.
5 Amazing Health Benefits of Kunu Aya  Drink
Besides being delicious, the Kunu Aya drink is good for your health! Although, it depends on the ingredients that you add. For instance, Kunu with Aya or millet is very rich in fiber, which is good for your digestive system. Also, the ginger that you add to the ingredient of making the kunu aya drink, will improve your metabolism and make you lose weight. If you are the type that does exercise and workout regularly then these drink is for you. It will help you relax your muscles. In addition, kunu boosts the flow of Breast milk in the mother. 
Kunu Aya is a healthy drink with great taste that contains so much nutrient that helps your health. The above process is quite simple and easy to make. All you need is a few ingredients and a blender. The drink refreshes your inner mind with a great smoothe taste. It becomes more delicious when refrigerated or serves with ice.
You can put little mints leaves to make it more extraordinary. The drink its best consume with cookies, cakes, gingerbread or muffins. Also, you can serve it during breakfast time because it contains fiber that will make you full and strong - that all you need for a brighter day. Bon appetit!
How to make kununtsamiya
Kunun tsamiya is a drink that is made of tamarind. Tamarind has such a vibrant and flavorful taste that all you need to make this drink is tamarind, water, and honey to taste.

Soak the peeled tamarind in boiling water, let the mixture sit for half an hour, strain, sweeten to taste, and serve the drink chilled or preserve by a refrigerator and consume later.

How to make kunungyada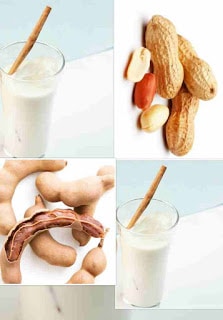 kunugyada, is a variation of kunu drink made with rice, tamarind, and groundnuts. Soak the rice and tamarind in separate bowls of water. In the meantime, roast the groundnuts, peel them, and add water to blend.

Combine the groundnut paste with rice and cook on low heat until the rice is tender. Serve with tamarind juice and honey for sweetness and serve the drink chilled or preserve by the refrigerator and consume later.