What is Osteonecrosis of the jaw?
Osteonecrosis of the jaw is a condition in which an area of jawbone is not fully covered by the gums. The condition usually lasts for up to eight weeks before you can identify it as ONJ. If the bone of the jaw is exposed, there will be no blood running through it and begins to die. ONJ usually occur most often when a patient undergoes an invasive (surgical) dental procedure in oral surgery such as dental extraction. Also, osteonecrosis of the jaw occurs spontaneously over boney growths in the roof or inner parts of the mouth.
Osteonecrosis of the jaw has seen in patients with herpes zoster virus infections, and in those who are undergoing radiation therapy of the head and neck (radiation osteonecrosis), osteomyelitis (bone infection), and in patients taking steroid therapy chronically.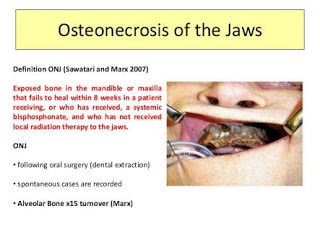 Individual taking antiresorptive medications to reduce their risk of bone fracture also may rarely experience ONJ. The reasons why some patients taking antiresorptive medications get Osteonecrosis of the jaw is unknown. It can be due to a decrease in the bone's ability to repair itself; a decrease in blood vessel formation; or possible effects of infection.
Diagnosis and Managing osteonecrosis of the jaw
There is no diagnostic test to determine if an individual is at higher risk for osteonecrosis of the jaw (ONJ). The only way to diagnosed these disease is by checking the presence of exposed bone, lasting more than eight weeks. Patients always complain of pain, which is often related to infection, soft tissue swelling, drainage, and exposed bone.
Osteonecrosis of the jaw is usually treated with antibiotics, oral rinses, and removable mouth appliances (retainers).
Because osteonecrosis of the jaw is a rare condition, the dentist can't predict individual patient who will likely get the condition. However, If you're a candidate that is taking a bisphosphonate, let your dentist know about these as soon as possible.
Certain dental procedures, such as having a tooth extracted or a root canal therapy, can make osteonecrosis of the jaw worse. Your dentist will keep you in check and schedule for diagnosis and treatment planning. These we help you maintain good oral health that keeps your teeth healthy and minimizes your risk of osteonecrosis of the jaw.
What increases my risk of getting osteonecrosis of the jaw (ONJ)?
Your risk of getting osteonecrosis of the jaw (ONJ), we keep on increasing longer if you're treated with bisphosphonates or denosumab. An individual patient who often takes cancer medications high doses for longer periods is at risk than people with osteoporosis who take fewer doses. Also, Patient with multiple myeloma also seems to have a higher risk of developing osteonecrosis of the jaw (ONJ).
For instance, cancer patients will have a higher risk of developing ONJ, especially, if they are receiving treatment through an Intra Venous needle. The doses of IV bisphosphonates used to treat cancer can be ten times higher or more than the doses used for osteoporosis. As a result, people who are treated with osteoporosis medication and do not have cancer are at lower risk. 
In addition, cancer patients receive IV bisphosphonates as often as every three-four weeks, while osteoporosis patients receive only a single IV dose yearly. As a result, the risk of ONJ in cancer patients is very high than the same medications used for osteoporosis treatment.
Also, people are at higher risk of developing ONJ if they have undergone dental surgeries while they are taking these medications.  Others risks include advanced age, steroid use, diabetes, gum disease, and smoking.
How to minimize your risk of getting osteonecrosis of the jaw (ONJ)?
If an individual patient starts taking bisphosphonates or denosumab medications, it's very essential for them to keep their teeth and gums healthy.
Schedule a dental examination and diagnosis cleaning before breast cancer treatment. Inform your dentist that you're about to start treatment and medications and discuss further to set up regular dental visit during the treatment period.
Also, inform your oncologist about any dental procedures you have planned, such as extractions or dental implant insertion, before your cancer treatment start.
Make sure your dentist check and adjust removable dentures if you have one, during the treatment.
Inform your dentist and oncologist if you have bleeding gums, pain, signs of infection in your mouth, or any unusual feeling in your teeth or gums.
Maintain good oral hygiene (brush and floss after every meal) to reduce the risk of infection.
Treatment of medication-related osteonecrosis of the jaw (MRONJ) and other antiresorptive agents
Osteonecrosis of the jaw is a rare condition but a serious one, in which the cells in the jawbone start to die.
Osteonecrosis of the jaw can be caused by bisphosphonates, medicines used to strengthen bones:
Actonel (chemical name: risedronate)

Bonefos (chemical name: clodronate)

Boniva (chemical name: ibandronate)

Fosamax (chemical name: alendronate sodium)
According to medical professionals, they think osteonecrosis of the jaw may develop because bisphosphonates stop the body from repairing microscopic damage to the jawbone that can happen during routine dental procedures or from everyday wear and tear. But it's still not clear why this happens in some people and not in others.
Because some breast cancer treatments can cause bone loss (osteoporosis), many women being treated for breast cancer also take a bisphosphonate.
Xgeva (chemical name: denosumab) can also cause osteonecrosis of the jaw. Xgeva is used to reduce bone complications and bone pain caused by advanced-stage breast cancer that has spread to the bone.
Symptoms of osteonecrosis of the jaw include:
pain, swelling, redness, or other signs of infection in the gums

gums or sockets that refuse to heal after oral surgery

numbness or a heavy feeling in the jaw

draining

having bone become visible in your mouth
osteonecrosis of the jaw surgical treatment
Bisphosphonates are used to reduce skeletal-related events in patients with bone consuming diseases such as osteoporosis and bone metastases. However recently there has been an increased awareness of bisphosphonate-associated necrosis of the jaws (BP-ONJ). Many authors propose conservative management in these cases but invariably the problem is not treated successfully allowing the bone defect to worsen. Recently there has been a move to treat this problem surgically.
The aim of this retrospective study was to provide a surgical solution for patients suffering from BP-ONJ.
All patients presenting with BP-ONJ were treated with bone debridement of the affected area and multilayer wound closure. The considered variables were: gender, age, underlying diagnosis, type of bisphosphonate (BP) used, duration of bisphosphonate use, route of administration, the location of the osteonecrosis, clinical symptoms, association with dental treatment and surgical outcome
Source: Science direct
Can osteonecrosis of the jaw be cured?
Symptoms of osteonecrosis of the jaw (ONJ) can range from very mild to severe one. Severe symptoms include infection in your jaw bone.
You can develop ONJ after some dental surgeries, such as getting teeth extracted (removed) or implanted. If this happens, it may take a long time for you to heal after dental surgery or you may not heal at all.
stages of osteonecrosis of the jaw
| | |
| --- | --- |
| Category | Description |
| | No apparent exposed/necrotic bone in patients who have been treated with either oral or IV bisphosphonates |
| | Non-specific clinical findings and symptoms such as jaw pain or osteosclerosis but no clinical evidence of exposed bone |
| | Exposed/necrotic bone in patients who are asymptomatic and have no evidence of infection |
| | Exposed/necrotic bone associated with infection as evidenced by pain and erythema in the region of the exposed bone with or without purulent drainage |
| | Exposed/necrotic bone in patients with pain, infection, and one or more of the following: pathologic fracture, extra oral fistula, or osteolysis extending to the inferior border or sinus floor |
 Prevention of Osteonecrosis of the jaw
A dental health program of good oral hygiene and regular dental care is the best approach for reducing the risk of having osteonecrosis of the jaw. Individual Patients should inform their dentists that they are taking potent antiresorptive therapy. Dentists should consider conservative invasive dental care in patients taking potent antiresorptive therapies.
For example, endodontic (root canal) treatment is preferred to dental extraction if the tooth can be saved. If dental extraction is needed, full mouth dental extractions or periodontal surgery should be avoided. (It may be better to assess healing by doing individual extractions.)
Individual Patients with periodontal disease should consider non-surgical therapy before agreeing to surgical treatment. Many patients taking bisphosphonates may undergo dental implants without problems. Although some dentists recommend the use of blood tests to decide who is at risk, this practice is controversial due to a very limited evidence base and should not be used at this time. This is in agreement with current American Dental Association suggestions.
Those on oral bisphosphonates are at low risk for ONJ. However, they are not without risk. Any problems developing in the mouth should call for dental diagnosis. There is no proof to suggest that bisphosphonates should be stopped prior to dental surgery.
However, patients about to start bisphosphonate therapy should consider waiting until any immediate invasive dental surgery is completed.

Conclusion
In terms of treatment, osteoradionecrosis proves complex, yet easier to treat than bisphosphonate-associated osteonecrosis. The removal of the infected bone tissue is often necessary, but it does not always lead to recovery. Therefore it can be concluded that the prevention of intraosseous infection by consistent pretherapeutic oral hygiene is very important.
RELATED READING