If you're reading this, you're probably looking to spread some health and fitness magic over your workplace. Fantastic! By even considering this, you're already one step ahead in making a difference. But how do you turn that dreamy idea into a resounding success? Let's walk through this together.
Lay The Groundwork With Passion
Remember that lunch break when you daydreamed about everyone laughing, jogging, or meditating together? That's your starting point. By being super charged up about it, you're not only setting yourself up for success, but you're also creating an aura that says, "Hey, I've got this idea, and trust me, you'll love it!". Start with a chat over coffee with a work buddy, discuss your ideas, and see their eyes light up. When passion meets purpose, magic happens. And when you share that fiery energy with others? Well, that's just rocket fuel!
Understand The "Why"
Alright, deep breath, let's talk strategy. Have you ever watched a movie and found yourself absolutely absorbed because you connected with its message? That's what we're aiming for. The real question here isn't just "What do we want to do?", but more importantly, "Why do we want to do it?" Maybe you've noticed the mid-afternoon energy slumps, or perhaps the group chat is filled with "ugh, Monday again" vibes. Your mission, should you choose to accept it, is to find the heart of this health drive. Is it to build stronger bonds among colleagues? Improve mental well-being? Or just combat those pesky Monday blues? Pin that reason down, flaunt it, and you'll find people nodding along, thinking, "Yeah, I want in on this!"
Survey The Landscape
Now, here's a golden nugget of wisdom: one size does NOT fit all. What might get John super excited might make Jane think, "Eh, not my cup of tea." So, before you rock out the trainers or stock up on green smoothies, take a little detour. Pretend you're a detective for a day - clipboard, magnifying glass, and all. Create a fun survey, or better yet, host a casual 'health brainstorming' lunch session. Get everyone to throw in their two cents on what health and fitness activities they'd love. You might be surprised! A "Try Veggie Fridays" could be the next big hit. By letting everyone chip in, you're not just creating a program; you're building a movement. And that, my friend, is leadership gold.
Start Small And Simple
What do a tiny acorn and your big fitness dream have in common? They both start small! As much as we want to go all out - hosting a company marathon or converting the entire rooftop into a zen garden - it's a good idea to start with baby steps. Think of it like dipping your toes into the water before taking the plunge. Maybe introduce a "Fruit Bowl Friday" where everyone gets to enjoy some fresh goodness. Or how about "Mindful Minutes", where the team takes a short break to just breathe and stretch? These little changes can create ripples of positivity. And once people feel the vibe, they'll be lining up for more!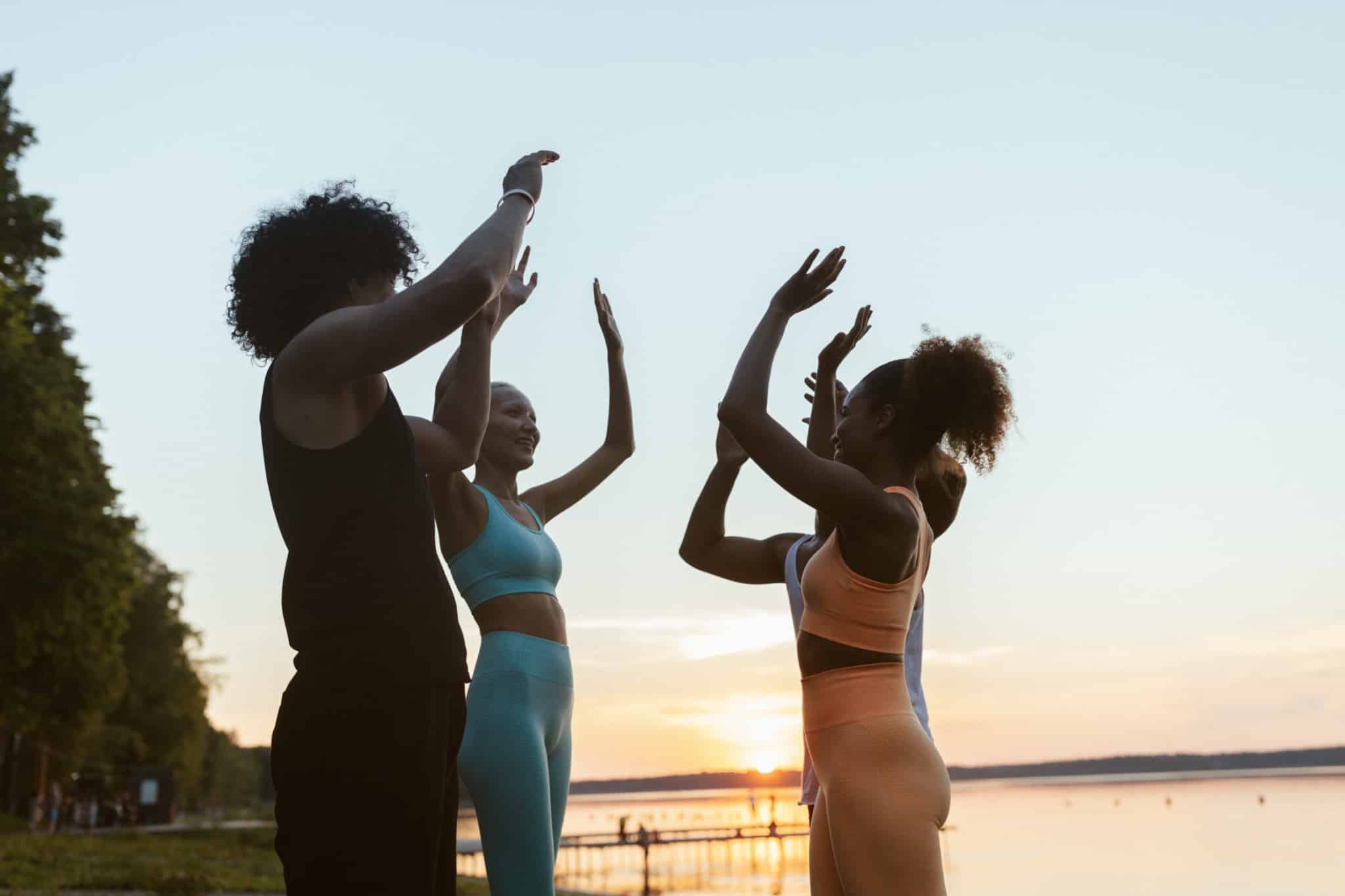 Think Outside The Gym
Fitness isn't just about treadmills, weights, and those fancy machines that look like they've been borrowed from a spaceship. Fitness can be fun. So consider fun at-work fitness activities that your team might like. Or how about "Recipe Swap Wednesdays", where colleagues share their favorite healthy recipes? And hey, why not set up a "Quiet Corner" with comfy bean bags for anyone needing a moment of peace? The sky's the limit, and you're the pilot. So chart your course and fly!
Make It Inclusive
Alright, confession time: we all have that one workout video we watched, tried for exactly 2.5 seconds, and then switched to do something we actually cared about. The thing is, not all fitness activities resonate with everyone. And that's totally okay! When you're designing a health drive, think of EVERYONE. From Sally, who's run three marathons, to Jim, whose idea of cardio is a coffee run. Maybe have different tiers or levels for challenges or even mix up the intensity of activities. The goal here is to create a space where everyone says, "Hey, I can totally do this!" rather than "I think I'll sit this one out." When you make fitness fun and accessible, you're not just building a healthier team; you're building a happier one.
Brand Your Fitness And Health Drive
Why not add a splash of style to your initiative? Every great movement or campaign has its own unique brand - think of the golden arches of McDonald's or the iconic swoosh of Nike. Why not create a catchy name or logo for your health drive? How about "Wellness Wednesdays" or "Fit Fam Fridays"? Whip out those artsy hats and design a logo that can be slapped onto T-shirts, personalized drawstring bags, water bottles, or even the company newsletter. Not only does this add a professional touch, but it also builds a sense of identity and community around your initiative.
Collaborate With Experts
Now, you're an all-star for kickstarting this, but even superheroes sometimes call in their buddies for backup. Why not rope in some real pros? Maybe there's a local gym with a charismatic trainer who can energize even the sleepiest of Monday mornings. Or that nutritionist down the street, always sharing mouth-watering yet healthy recipes on their Instagram - imagine them hosting a fun workshop at your office! And hey, don't be shy about reaching out. Many professionals love sharing their expertise, especially if it's with a group that's as pumped as yours. Plus, a little insider secret: they might even offer group discounts or partner up for some dual-branding action.
Track, Measure, And Celebrate!
Alright, you've put in the hard work, and things are rolling. But, like tracking your steps on a fancy fitness watch, it's crucial to measure your program's success. Set up some fun metrics: how many participated or who clocked the most steps in the "Weekday Walk-Off"? And here's the fun part: celebrate those milestones! It could be as simple as a shoutout in the weekly newsletter or something grander like a "Fitness Fiesta" at the end of the month with healthy treats and smoothie shots! The idea is to keep everyone motivated, show them their efforts are seen, and give everyone something to look forward to.
Conclusion...
Taking on a health and fitness drive at work is a commendable venture - both for the physical and mental well-being of everyone involved. While there will be challenges, know that the rewards - increased productivity, improved morale, stronger camaraderie - are well worth the effort. If it gets difficult, remember why you are doing it in the first place.