This infographic by
Dervla Leavy Dental Care
examines a few of the common toothpaste types and evaluates which one might be best suited to you.
From a young age, we are taught the importance of brushing your teeth twice a day so that they'll look their brightest and be maintained healthily. At first, we'll simply use whatever toothpaste is available, but after a while, you'll get to know what type of care your teeth need the most and duly use that as the basis for choosing the correct toothpaste type to buy.
The different labels that you see plastered across tubes of toothpaste are not mere marketing rhetoric. They enlighten customers as to the main purpose of the product so that they can select the one which best aligns with the treatment that their teeth require. For instance, let's say you have a lot of cavities. In that case, a fluoride protection toothpaste would suit you ideally as it contains plenty of fluorides and will help to prevent tooth decay.
Here Are Some Additional facts About Which Toothpaste Type is Best for You?

Fluoride can be dangerous if a lot of it is ingested, though, which is why children's toothpaste is comparatively low in this ingredient.
Is fluoride bad for your health? Real facts on fluoride
If your teeth are quite sensitive to hot or cold tastes, then it's best to use a desensitizing toothpaste which contains ingredients that inhibit the sharp response to hot or cold products. By contrast, whitening toothpaste would not be recommended as they have a high amount of abrasive agents which could cause a lot of discomfort in sensitive teeth.
Infographic: What Does Your Toothpaste Say About Your Tongue and Health?
If You See White Patches on Your Tongue


These white patches on your tongue may occur as a result of bad oral habits which signify oral candidiasis, which is an overgrowth of yeast or thrush. Try brushing your tongue regularly with the correct Toothpaste Type such as fluoridated toothpaste (herbal toothpaste) for a week to see if this is a matter of oral hygiene. If the patches persist, their cause is likely an overgrowth of candida. This condition can be treated with anti-fungal drugs.

So the next time you get out of the shower, wipe off the mirror, open your mouth, and inspect every area of your chick, tongue, and mouth in general. You might be surprised at what you find!

Your Tongue is Black and Hairy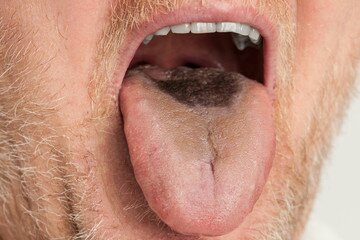 There are a few causes for the black hairy tongue, including yeast infections, diabetes, cancer therapies, and poor oral hygiene. A buildup of dead skin cells on your tongue's papillae results in the hairy look. No medical care is needed for this condition; simply practice excellent oral hygiene by regularly brushing your tongue with your preferred Toothpaste Type that matters to you (with the aid of tongue scrapers, as needed), and the problem should not persist.
If Your Tongue Has a Webbed or Stripped Look
The webbed or striped look is caused by your immune system attacking the cells and often hints at an inflammatory condition known as oral lichen planus. Lichen planus is not contagious but puts you at risk for mouth cancer, so it is important to monitor the condition. 

The best way to treat this condition is to practice proper dental hygiene use natural herbal formulated toothpaste you can call your dentist to recommend the best Toothpaste Type that fit your needs, avoid tobacco, and food that may irritate your mouth.