In the United States alone, some 1.75 million individuals aged 65 to 74 have Alzheimer's disease, according to the 2022 Alzheimer's Disease Facts and Figures released by the Alzheimer's Association. This figure increases to 2.41 million elderly individuals aged 75 to 84, representing 37.2% of the entire population of persons over 65. Aside from that, older people may also develop other forms of neurological disorders.
It's challenging to care for individuals with special needs at home, especially if you have other obligations. If you have a loved one who may be suffering from a neurological disorder, memory care facilities may offer the best solution. Fortunately, elderly care facilities such as Cedar Creek often have special memory care units catering to these populations.
What is a memory care facility?
Memory care facilities are places designed to accommodate elderly individuals with dementia and other cognitive deficiencies. These facilities have services, physical layouts, and amenities for patients with cognitive problems, ensuring proper care and safety. Additionally, these communities have skilled and trained staff with accreditations in memory care administration and management. Most have gained enough experience caring for patients with Alzheimer's and similar cases.
Patients in these facilities often have activities that enhance their cognitive functions while remaining safe and retaining their dignity. Structured programs are also designed to minimize stress in dementia patients.
On the other hand, nursing homes are specially designed for elderly patients who need advanced medical care to manage chronic and acute conditions. Besides medical care, nursing home staff also provide additional healthcare services such as occupational and physical therapies. Many retirement communities, nursing homes, and assisted living establishments have memory care facilities. However, there are also dedicated memory care facilities, which are exclusive to patients with neurological conditions.
Who may benefit from memory care facilities
Most patients showing early signs of dementia don't require admission to memory care facilities right away, as some cases are mild enough that they can be managed at home. According to the American Association of Retired Persons AARP, hiring a healthcare professional to care for a loved one at home can be a good option at its onset.
It's possible to delay the onset of dementia and Alzheimer's by keeping a healthy lifestyle. However, as a degenerative neurological disease, a patient's condition and accompanying symptoms may worsen over time. It can be challenging to manage at home without proper training, making memory care facilities a better option.
The AARP further states that the following factors must be considered before sending a parent or a loved one to a memory care facility:
The patient's safety and needs
Health conditions of all persons involved (patient, your family members, or the caregiver)
Your capacity in providing care or managing the patient's needs
Your other obligations (work, family, etc.)
Things to look at when choosing a memory care facility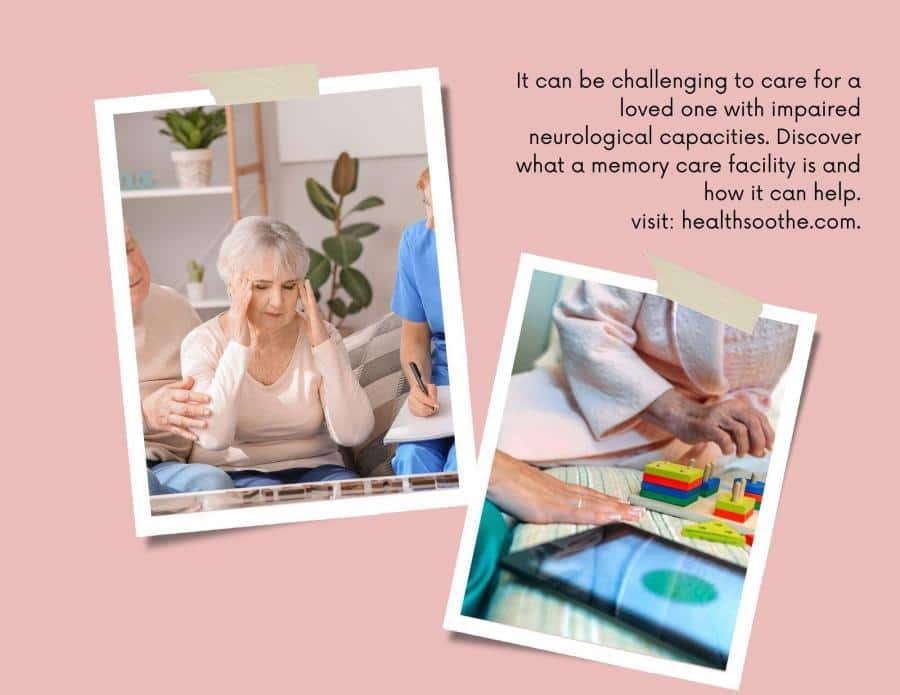 When picking a memory care facility for a loved one, start by making a short list of three memory care facilities, preferably within a state near you. Visit these facilities more than once to check the ambiance, operational efficiency, and physical amenities. More importantly, you must be looking out to answer the following questions:
Check the layout of the place to see if all critical areas, including exit points, are appropriately labeled. As dementia patients are prone to wander off, most facilities have tracking devices, secure doors, and enclosed spaces to eliminate this risk.
Is the facility accredited?
States and healthcare organizations have accreditation programs for memory care units. These aim to address areas critical to proper dementia care. It must have gained accreditation to validate its competency and capacity to handle memory care.
This one may be challenging to find out. Engage in a quick conversation with patients instead of relying on brochures and stellar reviews on the website. You'd want to keep an ear out for common complaints of elders staying there as those are likely to affect your loved one as well.
Are the staff competent and friendly?
Ensure that all the staff members are skilled and accredited memory care practitioners. Additionally, ask for the number of staff and residents and observe how the staff treat the patients.
Does the facility have enough resources?
Check the unit's program of activities and ask whether other medical care facilities are available in case of medical emergencies. You'd want a facility that can provide your loved one something to keep them active, adequate first aid equipment, and access to emergency transportation.
Concluding thoughts
Memory care provides customized care to cater to the needs of individuals with cognitive deficiencies. Find the right memory care facility for your loved one and you can rest assured that they will be properly cared for.
References
1. Alzheimer's Association. 2022. 2022 Alzheimer's Disease Facts and Figures. www. Alz.org. https://www.alz.org/media/Documents/alzheimers-facts-and-figures.pdf. Accessed 11 July 2022.
2. National Institute on Aging. 2021. What Is Dementia? Symptoms, Types, and Diagnosis. www.nia.nih.gov. https://www.nia.nih.gov/health/what-is-dementia. Accessed 11 July 2022.
3. Crouch, M. 06 December 2021. Memory Care: Specialized Support for People With Alzheimer's or Dementia. www.aarp.org/. https://www.aarp.org/caregiving/basics/info-2019/memory-care-alzheimers-dementia.html. Accessed 11 July 2022
4. Assistedliving.org. 2022. What Is Memory Care and How Much Should It Cost?. www.assistedliving.org. https://www.assistedliving.org/memory-care/. 11 July 2022