Last Updated on by Isreal Olabanji DST RN
In an ideal world, everyone would have perfect teeth and be smiling all the time confidently. However, since we live in an imperfect world, it is natural that some people will have an imperfect set of teeth too. If your smile is imperfect, one way to restore your self esteem is to invest in your own dental implants.
Having dental implants can really help you regain your self-confidence. Here are some benefits you stand to get if you have dental implants put in.
Benefit #1 They are permanently fixed to your jaw
Many people who lack teeth have noticed how embarrassing dentures can be. Not only do they slip at the most awkward moments, but they are obviously not real-looking. So your secret lack of teeth is exposed to the world. Dental implants are better than dentures since they won't slip and even fall out of your mouth.
Benefit #2 Dental implants can take on more wear and tear
Since a huge chunk of your time is used in eating, you may have noticed that your dental implants go through a lot of wear and tear every day. As the roots of dental implants are made from either titanium or titanium alloys, these dental implants types of materials are compatible with bone. The bone will grow around the implants and fix them in place. So, unlike dentures that can easily slip and fall, dental implants will stay fixed and can only be removed through dental surgery. The "teeth" parts are made of porcelain and will be shaped so that they look like your natural teeth.
Benefit #3 You look better with dental implants
When you opt for dental implants, the space (that used to be occupied by the teeth that you had lost) may seem to be "filled in". So you won't look like a malnutrition victim with sunken cheeks. You will actually look great, depending on the skill of the dental surgeon who put in the dental implants. You might even look better now that you have dental implants, compared to when you had your natural teeth.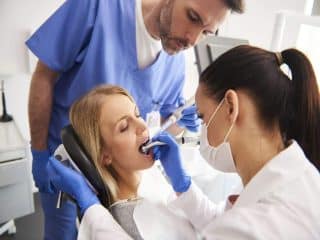 Benefit #4 You speak better due to dental implants
Another great aspect to having dental implants is that you won't have to worry about dentures slipping or even falling just when you're in an important conversation with your boss or while you are training colleagues at work. As dental implants are already fixed to your jaw, they won't fall out. This adds to your confidence in public speaking, especially if no one knows that you actually paid for dental implants.
Benefit #5 It is easier to eat using dental implants
Having dental implants is really an improvement over dentures since you won't find it hard to eat using them. Once you have healed from the surgery to install the dental implants, you might find it so easy to eat that you'll forget you have dental implants at all.
Benefit #6 Dental implants may help your mouth stay healthy
Dental implants that have been successfully set in place are relatively easy to care. You can brush and floss normally, even along the gumline of the prosthetic teeth. It is also desirable to use mouthwash to get into hard-to-reach spaces. This allows you to keep up with oral health habits necessary for keeping your mouth, gums, tongue and other natural teeth as healthy as possible.
Benefit #7 You get to keep your remaining natural teeth with dental implants
Dental implants can help you keep your other natural teeth, since there won't be any need to remove teeth to make room for prosthetic bridgework. A competent dental surgeon will know the best way to attach the dental implants, especially if there are a lot of natural teeth left. Once the surgery is done and you are healed from the surgical wounds, no one will be able to tell that you actually had dental implants put in.
Final Takeaway
Losing your permanent teeth can be traumatizing because other people may laugh and talk about it, even in front of you. The good news is that dental implants are now available so you may inquire with your dentist about it. Dental implants, when implanted the right way by a dental surgeon, are often almost impossible to tell apart from your remaining natural teeth. This helps you feel more confident, talk more fluently, and even eat without incident so that your self-esteem will definitely improve. Ask your dentist about dental implants and how these can improve your quality of life now.
Related reading
We are sorry that this post was not useful for you!
Let us improve this post!
Tell us how we can improve this post?