Donate-ng is an online fundraising and crowdfunding portal in Nigeria where individuals and charities with causes and projects can easily raise funds. 

By using the go-to portal for crowdfunding in Nigeria, Charities, School Alumnus, Religious organizations, Entertainers and other game-changers can ensure their big dreams come true, by enlisting the help of people all over the world.
Our focus and goal are to ensure no huge cause goes unfunded.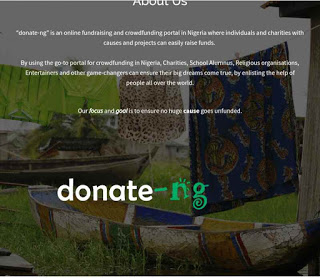 History of 

Donate-ng
 Founded in 2015, our Mission is to be the "go to" portal for crowdfunding in Nigeria, where Nigerians in Nigeria and in the Diaspora or people with Nigerian descent and affiliation, can collectively help change lives through online fundraising for projects and charitable causes.

Our principles:
No huge cause or life-changing project should go unfunded
It is more blessed to give than to receive.
We should give as we have been given.
Things to know about "Nigerian charity"
"donate-ng is a home for funding your small or big Charity dreams. Our mission is to help ease the burden of raising funds for your charity project or causes, bringing your dreams to fruition.
Will support each dream (Project or Charitable Cause) created by individuals or organizations.
"donate-ng" in its capacity has tried to curtail all avenues of fraud and mismanagement of funds raised, making sure all funds are used for the designated cause/charity/project.
 will support Fund Raisers to ensure their big dream is met using the "donate-ng" supervisory framework and ubiquitous advice.
How charities program works
To be able to raise funds in any capacity, i.e. individuals, Alumnus, Charities, Religious Organisation, Corporate Organisation, Political Organisations, etc, a 5mins registration process is required on donate-ng.com. Registration information provided is kept discretely and not shared with any third party.
When Registration is complete, you can now create a fundraising portal for the cause/project in which you want to embark upon. Your portal can include short stories, pictures, videos and any relevant information you need to publish your cause. When a portal is created you broadcast your portal link for donations to start.
At the completion or expiry of donation period, funds raised through donate-ng would be handed over to you.
Time to GO AHEAD and make your DREAM happen, CHANGING LIVES.
Need any help? Contact them now!
The Garnet Building, 2nd Floor, Capital Square Km 14 Lekki-Epe Expressway, 
Igbo Efon, Lekki, Lagos Nigeria. 
Tel: +2349070663915,+2348023996132 
Website: https://donate-ng.com/how-it-works
Related rereading