If your work from home routine isn't working for you anymore, then the new year is the perfect time to revamp it. Whether you're logging too many hours or not getting enough done (or both), making some tweaks to your routine can make you more efficient, productive and rested. Here are seven new WFH strategies to try in 2021, from faking a commute to getting low-FODMAP meal delivery:
Throw it back to the past.
At this point, many of us are approaching the one year mark of working from home. Take some time to reflect on what's working so far — and what's not. In fact, you might find it productive to think about two years ago, when you mostly went into the office, and what you do and don't miss about in-person work. Many work from home routines were developed on the fly during the great stress of the pandemic, so the beginning of a new year is the perfect time to consider what you want to change and what you want to keep. You won't be able to replicate office life from home, obviously, but there may be some tweaks you can make to remedy some WFH problems.
Replace your commute with something better.
Commuting is a time suck that takes away minutes and hours that you could spend on something else. Even if you were glad to give up your actual commute, you might find yourself missing that time to yourself, as well as the automatic transition it created to and from the work day. In 2021, strive to replace your commute with a new morning and evening routine that helps create boundaries to your work day and gives you a sense of rhythm. Instead of spending 40 minutes in the car, you can go for a walk around the block and listen to your favorite music or podcast. You might be surprised how much your new not-a-commute improves your day!
Protect your free time.
When working from home, it's all too easy to pack your days full of meetings and then use your evenings and weekends to get actual work done. After all, it's not like you're doing much else besides sitting at home, right? Wrong. It's vital that you protect your free time so you give your brain time to rest. Otherwise, you'll just burn yourself out and then work will become harder than ever. Take steps to set boundaries, which might include turning off your work devices after hours and removing your business email from your personal phone. Even if you don't do anything "productive" with your off time, you're still recovering from work no matter what — and that's critical to your continued performance.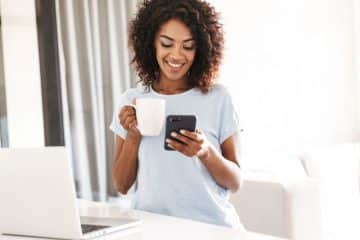 Have little pick-me-ups throughout the day.
When you worked in an office, it was easy to take little energizing breaks throughout the day, whether that was stepping out to a nearby coffee shop or chatting with your favorite coworker. However, that becomes really hard if you never leave your house. This year, try to brainstorm and add some other pick-me-ups into your day, whether that's putting on a nice outfit for no reason or taking breaks to pet your dog. The little things really can make a big difference when it comes to improving the quality of your work days.
Use your meal breaks wisely.
Working from home makes it all too easy to scarf down a plate of leftovers while answering emails, or to spend hours puttering around the kitchen making something unnecessarily elaborate. It's important to take real lunch breaks so your brain can rest, but it's also smart to keep your lunch break from taking over your entire day. If you like to cook, choose easy recipes that come together fast or do most of your meal prep on the weekend. If cooking isn't your thing, look into meal delivery services that will ship prepared food straight to you. Whether you're a vegan or on a low-FODMAP meal plan, there's a delivery service out there that will meet your needs.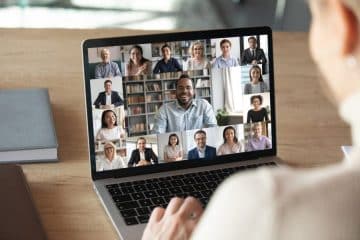 Revamp your meetings.
In 2020, it seemed like every single interaction became an hour-long Zoom call, regardless of whether it actually needed to be. In 2021, commit to re-evaluating whether something can be handled by email or Slack rather than a long video call. Also reconsider how long your meetings are taking and if you can reduce the amount of time you spend on them. If you schedule a meeting for an hour, people will probably keep talking to fill the time — but you might be able to get it done in half an hour if that's what you schedule it for.
Experiment with scheduling vs. listening to yourself.
Many people advocate for keeping to a strict schedule while working from home, to mimic the more structured calendar of working in an office. For some people, this more stringent routine works for them and helps them keep focused. However, the wonderful thing about working from home is that you can be a little bit more flexible with your work. If you'd like, you can take more of an intuitive eating approach to work, doing tasks when you've got the energy and taking breaks when you don't. Just make sure that this strategy doesn't lead you to procrastinate too much, or to let work take over your entire life.
Working from home is here to stay, so you might as well make the most of it with these seven strategies. Optimize your WFH routine in the new year with these suggestions. It's time for your schedule to start working for you rather than the other way around.